Since the age of 10, Sophia Chang has been preparing for a life of leadership. Born to Chinese parents who were living in Brazil, she and her sister immigrated to the U.S. as children and spoke no English.
Her mother worked as a hostess and her father as a dishwasher for a Chinese restaurant in Philadelphia. After Chang's parents opened their own small establishment, she and her sister joined them. They quickly learned the language and used any free time after school or on weekends to help their parents at the restaurant – translating, making wontons, rolling egg rolls – "really taking on these adult responsibilities," she told NBC News. "What I didn't realize at the time was that it was really preparing me for leadership."
Today, at the age of 53, Chang has realized that ambition. Last year, she became the first Asian American CEO of the Girl Scouts of the USA, the largest leadership organization for girls in the world.
To honor that milestone, Chang was selected as part of the 2022 "50 Over 50" Impact list, created by Forbes and Know Your Value, which celebrates women who have achieved remarkable success later in life.
"It's an amazing opportunity, such a privilege to be in this seat," she told "Morning Joe" reporter and Know Your Value contributor Daniela Pierre-Bravo at a celebratory luncheon in New York City last month. "I didn't grow up in this country, I came as an immigrant – I didn't see a lot of women like me in these leadership positions – and I'm not sure I would have connected the dots myself to where I am today. It's an honor and privilege but I feel like it's a real responsibility."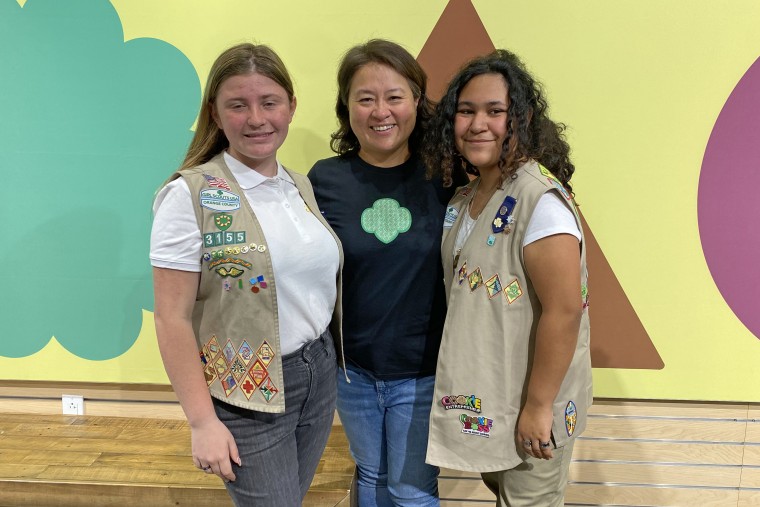 Since she started in the role, Chang has focused on building the inclusive environment she's always wanted to provide for others. "It speaks so much to our organization and what we're here to do, which is empower girls of this generation to really become leaders," she said.
Chang, a former HBO executive, credited her mentors there with enabling her toward a leadership role. "I came from HBO and there were so many women there who broke so many ceilings and really paved the path for me to break my own," she said.
In her 20 years with HBO, Chang lead record-braking digital and subscriber growth, as well as championed diversity efforts. She previously served as an executive sponsor of HBO's AAPI employee resource group and as a member of the company's diversity council.
But surprisingly, she admitted she never really pictured her career after the age of 50. "I usually think of my life in 5-year spans – I don't go too far," Chang told Pierre-Bravo. "It's really about thinking about what I need at the time in terms of what fulfills me, what inspires me and, more importantly, what I can bring to an organization."
Chang, who said she entered the world of Girl Scouts through her daughter, explained that she hopes her visibility in this leadership role can help broaden the realm of possibility for young girls. To that end, her advice to help them manifest their long career runway is simple: "Dream big."
"Life is full of opportunities and maybe you don't see those opportunities that are ahead of you – just be courageous," she said. "When you do get to a position where you can embrace and advocate for others, do that because the reason I'm here today is because many people said yes to me and took a chance on me. You can do that at any age in your life. Dream big – the possibilities are there for you."