In late 2020, veteran leadership expert Selena Rezvani had witnessed firsthand how the pandemic fallout affected her client base and peer networks. "Lots of clients froze contracts or understandably wanted to pull out of agreements," she recalled. "Those of us who are entrepreneurs saw a lot of uncertainty in our careers."
The bestselling author and TEDx speaker realized she needed a confidence primer – a reset that could benefit others – so she started a weekly LinkedIn newsletter called Quick Confidence.
"I talked myself out of it five different times," she recently told Know Your Value. "I said, 'you know, is confidence too fluffy, does this really matter to people and given all that's happened with job insecurity, fears about health and safety during the pandemic?"
Instead, she saw something amazing happen. "People started sharing it and commenting with their own experiences," she said. "I started to see this confidence thing is not inconsequential, it really mattered in people's lives."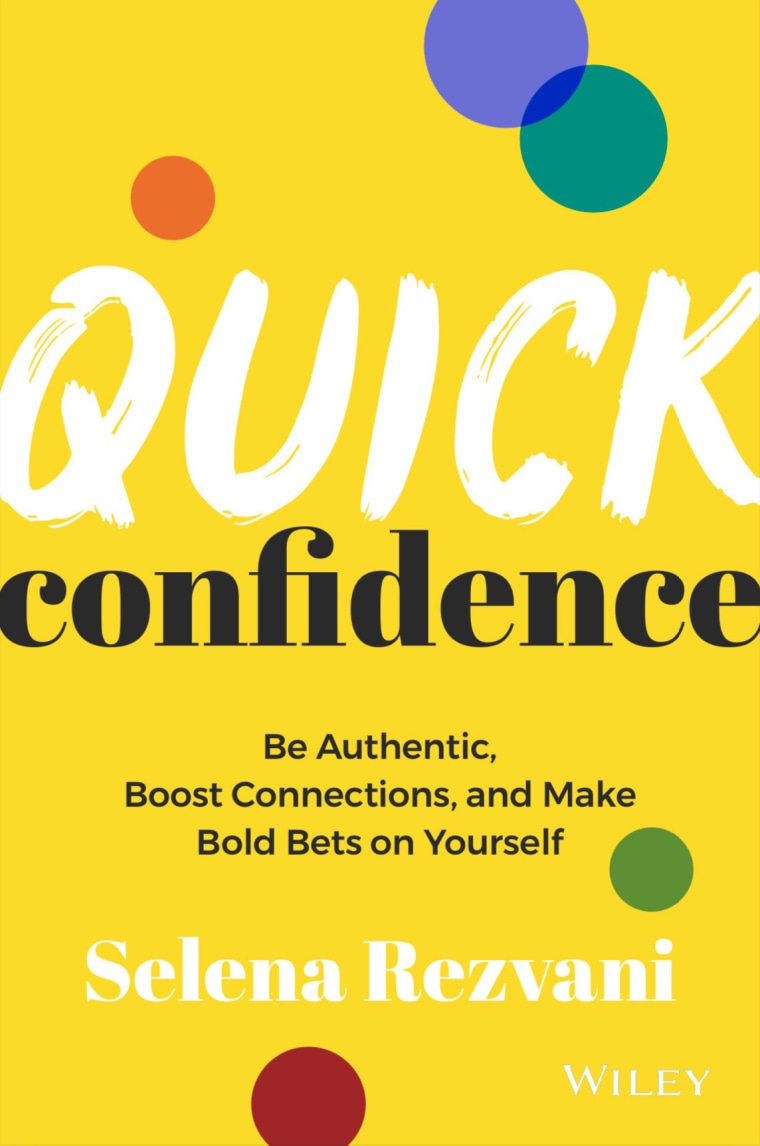 Rezvani's pandemic newsletter quickly became a forum – a community with no less than 100,000 subscribers – and that gave way to her latest book released this week, "Quick Confidence: Be Authentic, Create Connections and Make Bold Bets on Yourself."
Rezvani recently shared some of the lessons from her book – including a key mantra that instantly gave her confidence – and offered more digestible actions, behaviors and exercises to change the way you think and present yourself to others.
Below is the conversation, which has been edited for brevity and clarity:
Know Your Value: Break down the three main categories of building confidence you describe in the book.
Rezvani: Yes! The first centers on mindset shifts. The belief systems that we hold on to that can fuel our confidence or frankly sink it depending on what we're thinking about. This is all about what we believe.
One example of a mindset shift is something I struggled with in my career – a feeling that I belonged. I remember advising companies and working with leadership teams that looked the opposite of me in every single way. I kind of took on this practice of mimicking what they did – the Bob Jones from the Midwest style of management consulting – when I'm Selena Rezvani from Philly with my own style, my own flavor!
One of the mantras I used to make an instant mindset shift was this: I 400 percent belong in this interview, this boardroom, in this presentation. Affirming my own belonging is something that helped me and lots of my clients as well to get into a better, more confident mindset. You earned your place as much as anybody else here!
Another confidence technique is what I call embodied – tips about our body language. What can we do with our physicality that can make a difference around confidence? If you are feeling intimidated or don't particularly feel you belong … It can be really tempting in a moment like that to physically play small (ie. droop shoulders, stand in the corner, make furtive eye contact, do low talking).
I encourage people to actually do the opposite: to "big up," as I say, and to be conspicuous. This way, you're talking at an audible volume, a 7 out of 10. You're not shrinking from that moment, and you're sending a really powerful message to your brain that you do belong.
And then the last one – I think a really important one – is interpersonal. What are some of those communication practices that we can use to be really effective with others, maybe to give them a vote of confidence or to signal our own that we're taking a firm position on something.
I really love this tip, not only because I have a puppy, but it's called the dog principal.
If you think about it when a dog comes and greets you, does he stand in the corner and talk it over with friends? No. Do they overthink it? No. He comes right up to you and is willing to be the first. One of the things I recommend to people if they want to build quick confidence is initiate more of those interactions.
Be the first to go up to somebody at a party and say hello. Be the first to walk up to a group at a networking event and introduce yourself. Be the first to welcome that new person at your organization and ask them if they'd like to go to lunch. The quicker you get up to meet or greet somebody, the less scary this becomes. It's a really simple hack that can double your social confidence.
Know Your Value: How can women better assert themselves in an intimidating workplace situation?
Rezvani: One of the ways I like to recommend women to do that if they are negotiating with an intimidating authority figure is don't assume they have all the power and you have none.
You are in your position for a reason.
Some of the ways I coach people in an intimidating situation is to interact with the person, not the power. For instance, not John Smith, CMO of this Fortune 50 company, but John, the flesh and blood person who's a brother, a dad or a friend to someone. Stop focusing on their status, their juice … It's the two of us versus this problem in front of us.
Another way to work around intimidation is by speaking up. Calling something out when it's wrong or exclusionary. There's a framework – developed by Dr. Loretta Ross at Smith College – that's given me more confidence to call in versus call out that negative behavior, and it's great because if we see something really negative playing out that in that moment, we can "call in" if we're not sure what we heard: "That didn't quite land right with me, can you explain what you meant?"
You're curious, you want some deeper meaning, which is different from calling out and this is when we want to put a stop to something then and there.
Know Your Value: What are the self-affirming tips you give women walking into a high-stakes negotiation or opportunity?
Rezvani: One of the things that can really help if you're having that critical or abrasive inner voice … is to shift from the conversation in your head to the conversation in your audience's head.
Ask yourself these questions: What are their goals? What are their passions? What are their struggles? And how can I speak to at least one of those?
That's a really wonderful thing when you can make that switch from, "Here's what I want, or here's what I'm proposing," to "Here's how I've thought about your position, here's how I've empathized with what you're going through, what's top of mind for you, and here's how we're both going to win."
It can magically open people's ears more to what you have to say and give you that confidence boost that you've really stood in their shoes.
Know Your Value: What's one surprising technique that can communicate confidence?
Rezvani: If there is one tactic I love most around negotiating, it's silence. Not silence like where you check out of the conversation, or you're passively being led by the hand. I'm talking about strategic silence.
It's especially important when you're in that asking type of conversation, right after you make your [salary negotiation] request.
"For all these reasons, I'm asking for an X-percent raise."
If you are a recovering people-pleaser you may feel a strong urge to reassure the other person with more words. What I love about silence is it's this neutral pocket in a conversation. It's a safe place to be when you're negotiating because you're not promising something you'll regret later, or agreeing to something that doesn't sit right with you.
It's a wonderful thing that actually requires us to do less, not more. And I really like to accompany it with a poker face. Not necessarily a scary and severe, but we're not smiling either. We're bringing some of that neutrality because sometimes the bigger power move is to reveal less.