Jennie Garth and Tori Spelling are proving it's never too late to make a career pivot.
The actresses, known for their roles in the 90s teen-drama series "Beverly Hills: 90210," announced this week that they are teaming up to a launch a new company called "The BFF Collection," a lifestyle brand for the home, where style meets function.
"We've done everything together, so this is just a natural progression," Spelling, 49, told Know Your Value founder and "Morning Joe" co-host Mika Brzezinski earlier this week. "What better person to work with than your BFF?"
Brzezinski asked Garth, 50, if she ever imagined this stage of her career when she was in her 20s and 30s.
"I honestly thought about it a lot. I thought about running and hiding in the hills. I thought there would be no career after 40," said Garth. "Because when you're young, you just don't think big picture like that or long term. So, I'm pleasantly surprised and delighted that I'm still going strong. I still like working, and I love it. And I'm more creative now than I have been my whole life. I'm stronger now than ever."
Brzezinski, who recently released this year's "50 Over 50" U.S. list with Forbes and Know Your Value, asked Spelling what women can take away from their new company's launch.
"Do what you love when you want to do it," said Spelling. "We all have, since we were in our 20s, had like our 5-year plan. Well, you can have a 10-year plan, a 15-year plan, a 20-year plan and beyond. …Just always wake up every morning and think "What do I want to do next?"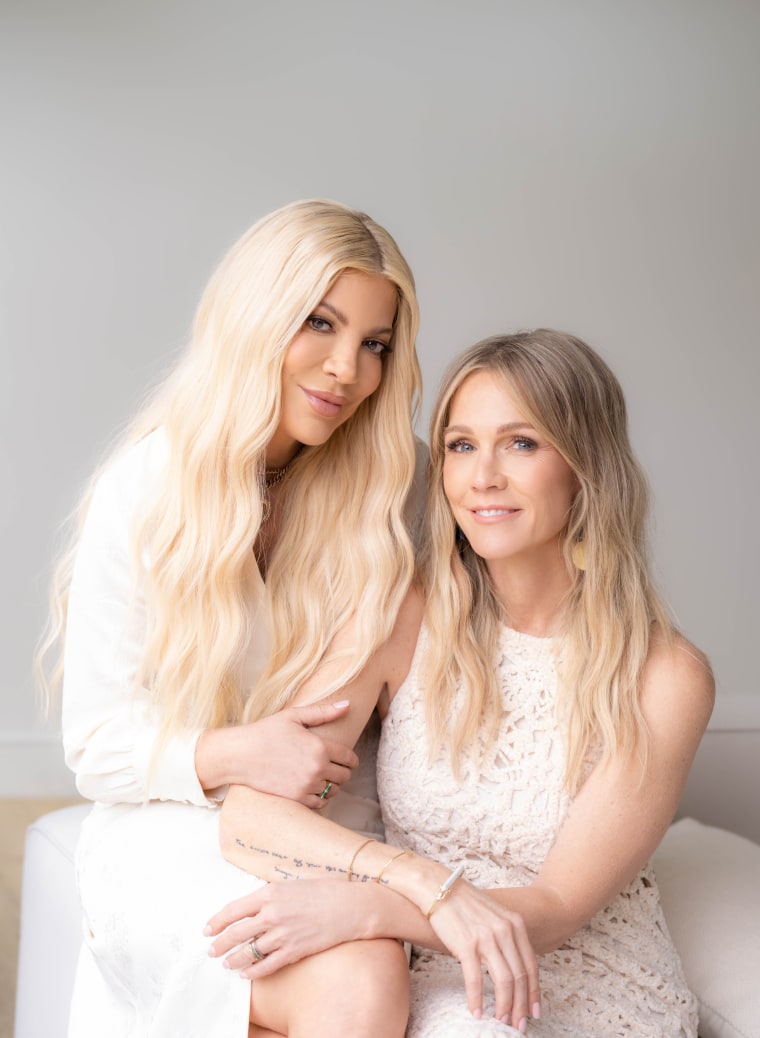 Brzezinski noted when she was younger, she too never imagined her career after 50. But now at 55, she said she has gained so much confidence and no longer cares what people think.
"I'm right there with you," said Garth. "I don't care. And sometimes that can get in the way. But I find that liberating and it frees me up creatively. And it allows me to take more chances."
"The BFF Collection," launched on all QVC apps on January 26. The debut collection features 11 home décor finds, including functional entertainment carts, storage ottomans, everyday trunks, apothecary jars, etched glass canisters, illuminated hurricanes, decorative pillows, and throw blankets. The collection ranges in price from $49 to $242.
"Our 35-year friendship was our inspiration for most of the pieces in the collection. During the design process… we reflected on all our joyful and happy memories together and designed pieces that we would want to use in our own homes," said Garth. Spelling added, "Collaborating with QVC allowed Jennie and me to share the stories behind our creation of each piece. We cannot wait for the world to see how much love was poured into this collection."