Ginny Rometty knows what it's like to defy the odds and break barriers.
Rometty, 65, served as IBM's first female CEO, is one of the world's most influential business leaders and was named "Most Powerful Woman" by Fortune magazine three years in a row.
Her rise to the top, however, was not fast or easy.
Rometty writes about her challenging childhood – and her groundbreaking path to Fortune 500 CEO – in her new book, "Good Power: Leading Positive Change in Our Lives, Work, and World." In the book, she recounted growing up as the eldest of four children outside of Chicago -- and her father leaving their family when she was 16 years old. Rometty's mother, who was unemployed at the time and had no education past high school, was left with no money for food or housing.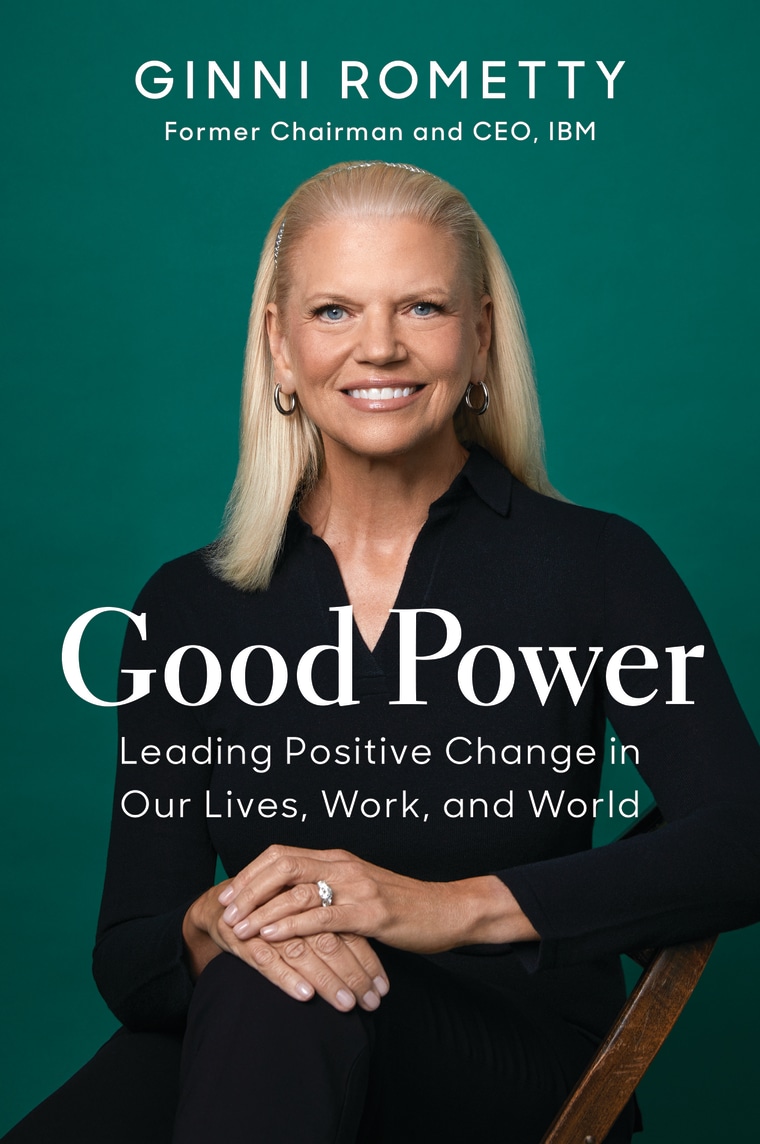 Rometty said "good power" helped her family overcome financial hardship. The family survived on food stamps, and her mother picked herself up, went back to school, got a better paying job, and put her family's life back on track.
She said "good power" also guided Rometty's 40-year rise at IBM. During Rometty's tenure (she stepped down in 2020), she took on risky assignments, including multi-billion dollar acquisitions, and transformed the 100-year-old company by shedding unprofitable businesses. Under her wing, the company also extended parental leave and created a returnship program to make it easier for women to return to the workforce.
Like her mom, Rometty said she refused to let anyone else define her and decided she would create her own path forward.
Rometty recently chatted with Know Your Value about her new book, how we can get more women in tech, her best career advice for young women and more. Below is the conversation, which has been edited for brevity and clarity.
Know Your Value: What encouraged you to write "Good Power"?
Rometty: When I retired from IBM, given my life's journey, several people encouraged me to write a book. As I reflected on my past, I realized that certain lessons I learned early in life stuck with me, and scaled as my career and responsibilities grew.
The biggest lesson I learned in childhood was that we all have the potential to change things for the better by wielding our influence in positive ways. This idea evolved into the concept I call "Good Power."
Know Your Value: Do women face specific barriers when looking to gain power?
Rometty: It's a tragedy that gender bias still exists. I was often the only women in the room and worried that if I didn't know an answer to a question, or if I didn't add value in a meeting, people would remember me because I was different from everyone else.
To avoid standing out in a negative way, I would rigorously prepare for every meeting and presentation. Was it fair that the onus was on me to prove people's stereotypes wrong? No. But all my preparation helped me stand out in good ways and excel professionally.
Know Your Value: What are some key lessons from "Good Power"?
Rometty: The lessons and tactics apply to anyone who wants to expand their sphere of influence and have a positive impact. We apply "good power" when we inspire, versus order others to follow us.
We inspire by asking people for the opinions, listening to their ideas, co-creating solutions, and communicating with honesty and clarity. When people feel respected and part of the process, they work extra hard to achieve an outcome.
Know Your Value: What's the difference between good and bad power?
Rometty: Bad power is selfish, fear-based, and hierarchical. Bad power dictates, and forces people to do things. Good power unites people for a shared purpose, bridges differences and motivates people to be the best ver­sion of themselves. Power is also good when it's inclusive, shared, and distributed, and when it seeks to maximize beneficial impacts and avert, rather than ignore, harmful consequences.
Know Your Value: Currently, women make up about a quarter of the tech workspace. How can we increase that number?
Rometty: First, as a society we must encourage girls to study science, technology, engineering, and math (STEM) in elementary school through high school. Unfortunately, our education systems and even well-meaning parents and teachers continue to discourage young women from pursuing STEM fields, and not as many women stick with it.
Second, we need to showcase women in tech, and the variety of work they do. More visible role models will inspire more women, because we can't be what we can't see.
Know Your Value: What advice would you give young women who want to move ahead in the careers, especially if they work in a male-dominated field?
Rometty: Never let anyone else define you. That's a lesson I learned as a girl from my mother. When my father abandoned our family leaving us with no money, my mom refused to let his actions determine our future.
She took control of her life, and ours, by going to school to learn new skills so she could get better jobs so we could get off food stamps and stay in our home. She showed me that others may take things away from us, but no one can steal our power to take control of our lives.