For many women, choosing to take a career break to raise a family can feel like a terrifying decision. You don't know how it will impact your long-term goals and finances, not to mention how it will affect your self-worth. You also might be worried about struggling to re-enter the workforce when — and if — you decide to come back.
That's how Danyelle Sargent Musselman felt in 2013 when she decided to step away from a successful career in sports broadcasting to take care of her then 3-year-old daughter, Mariah. But looking back, she wouldn't have done anything differently.
"You never know what comes next when you walk away from your career," Sargent Musselman, 45 told Know Your Value. "But that does not mean that there's nothing next. You will find a new way and you'll find a new passion. That's what happened in my life."
Sargent Musselman, who is married to Eric Musselman, the head men's basketball coach at the University of Arkansas, is heavily involved with the day-to-day operations of the team. "It's like I am the mom of 15 boys that are very, very tall," she joked. She also works with several philanthropic initiatives and frequently hosts fundraising events for organizations like Coaches vs. Cancer, Make-A-Wish Foundation, New Beginnings and more. She noted her broadcasting career – which included jobs at Fox Sports, ESPN and the NFL Network – helped open up many of those new opportunities.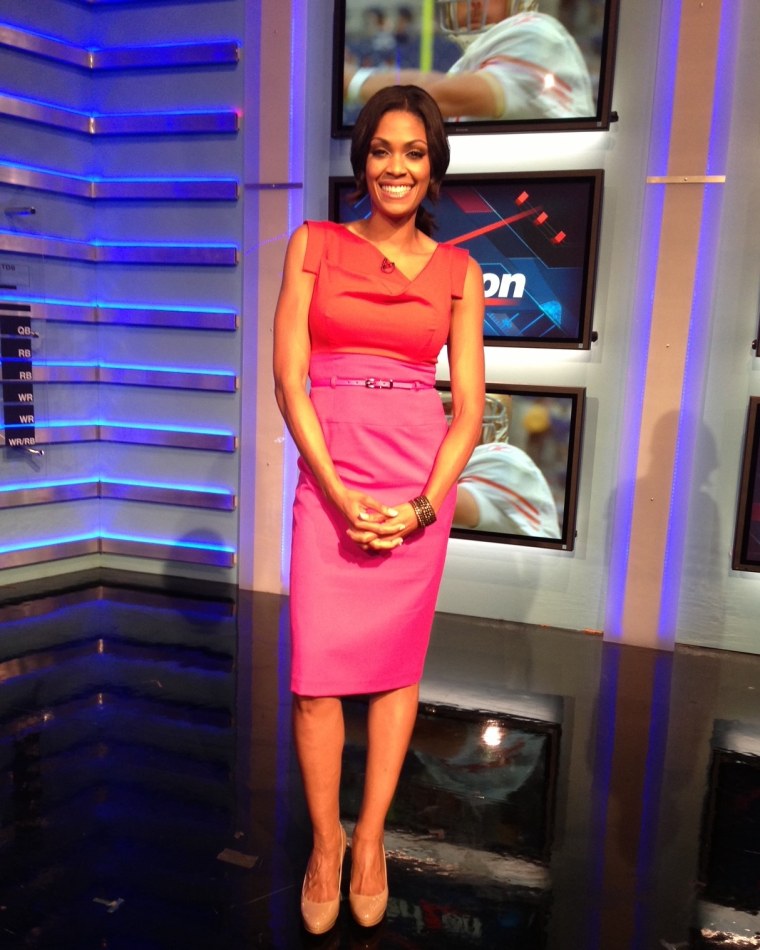 Know Your Value recently chatted with Sargent Musselman about her career in sports broadcasting, breaking into a male-dominated field as a woman of color, her decision to pivot careers and more.
Below is the conversation, which has been edited for brevity and clarity:
Know Your Value: Tell us about your decision in 2013 to take a career break from sports broadcasting to take care of your daughter. Were you nervous about the decision, and what did you learn?
Sargent Musselman: I was working at NFL Network. I had a great job, but my husband had just gotten into college basketball, which is way more year-round than the NBA. My daughter was 3 years old, and we had gotten to the point where we had a live-in nanny, where we saw each other two days a week. I was living in Arizona, and I was flying down to LA to work for three days, and then flying back. And then [my husband] was traveling with work and recruiting and all of that.
I remember after the Super Bowl, I said to my [employer], "I've gotta take some time off." And they asked how long. And I'm thinking it's the off season, so maybe a couple of months. And they said, "Well, how about a couple of weeks?" I had a talk with my husband, and I said, "I can't do this anymore. It's not working for our family."
And so, I just kind of just jumped out of it. I put in my notice, and I really had no idea what I was gonna do next aside from being a wife and a mom. And that was definitely scary. And I think whenever you're so passionate and you love a career, as much as I love sports broadcasting, you kind of think that maybe that's it for you … you're not gonna have any more amazing experiences.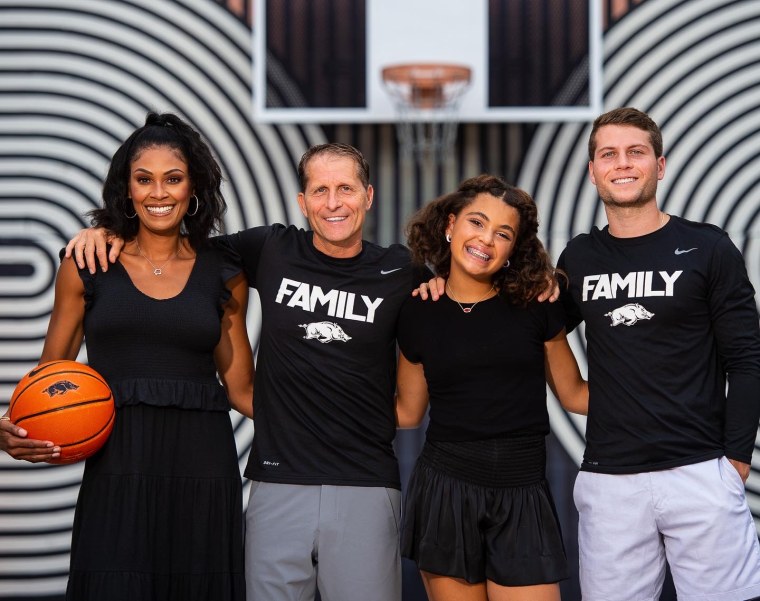 I just want to tell people that that's not the case. You might not know what's gonna happen next, but you know, I was in my 30s, and to think that "OK, that's over," it's kind of sad. And so eventually I started getting into philanthropy … And it was funny because it was my background as a broadcaster that helped. I started hosting fundraising events, and then soon everyone was asking me … and so that was really cool. And then since moving here to Arkansas, even more [philanthropic] opportunities have opened up.
…For any woman who is walking away from a career, especially a career that they really love, it is scary. And you might feel lost for a little bit…You might lose some of your confidence. I remember I was at a preschool book fair a week after I left the NFL Network. And I'm looking at myself like "OK, is this what I'm doing now?" You know what though? It was OK. You get through it.
Know Your Value: You call yourself the 'GM of Team Musselman.' What does that entail? Walk us through your typical day.
Sargent Musselman: I call myself that because when my husband is coaching, and especially during the season, being a coach is just an all-encompassing job. And so, he really has to spend a lot of his time focused on that. So, it kind of leaves everything else up to me. And I also have things that I'm dealing with this team. So, I'm putting out those fires, and then I'm dealing with the things at home. And then I'm very much involved in philanthropy. And we have a 12-year-old daughter who's at home, and then I have a 22-year-old stepson who is a senior in college and then a 26-year-old stepson who lives here and works for my husband. I call myself [the GM of Team Musselman] because on any given day, I feel like I'm balancing like seven different things. I'm just kind of the general manager that holds it all together.
[With the team], we really try to promote a family atmosphere among not just our players that are on the team, but it really extends to their families … Eric really likes to have like the kids and their families over to our home, or it's sometimes stopping by practice and meeting them, just answering questions that are not related to basketball for these kids and their families. I mean, these are just kids. We have six freshmen on our team, so it's having them over for dinner, helping them. A lot of these kids are away from home for the first time…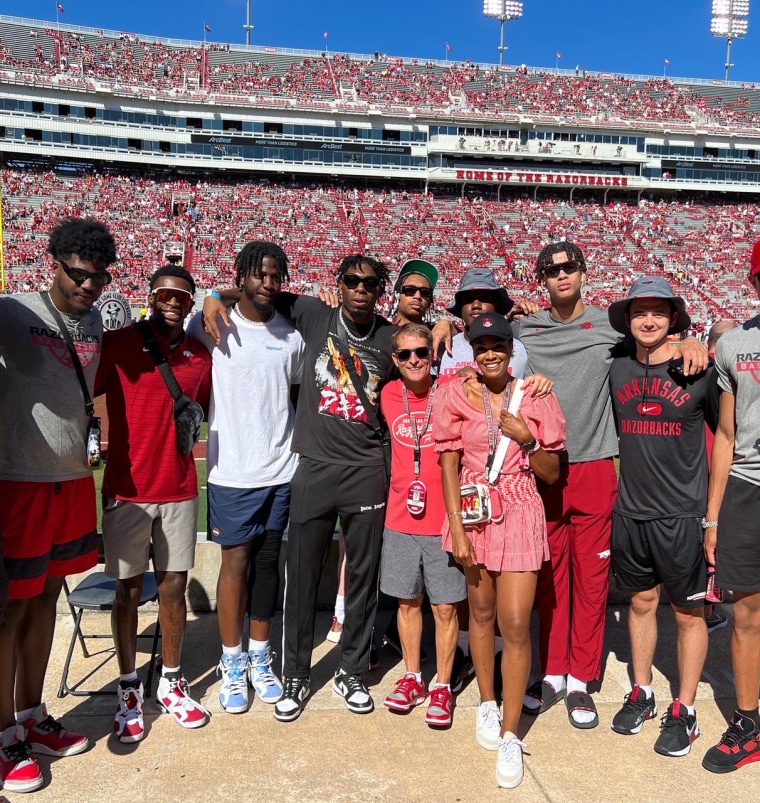 Know Your Value: How did you get your start working in sports broadcasting? Were you always a big sports fan?
Sargent Musselman: I was an athlete growing up. I played high school sports — basketball, softball, I ran track. And my dad was a huge sports fan … So I always really loved sports. I did not really realize that I wanted to be a broadcaster until I think it was my second year of college. I went to Florida State and looking back, I kind of laughed because I'm like, 'of course you wanted to be a broadcaster.' I was reading radio announcements. I was in every play. I always had an interest in public speaking… When I was in college, I realized that's what I wanted to be. And, I just kind of worked my way up the ladder …
Know Your Value: In the early 2000s and at the start of your broadcasting sports career, you felt like there were fewer positions available for women, let alone women of color. What was that like as a young journalist trying to find her way?
Sargent Musselman: Now when you turn on the TV, you see women everywhere. But when I was growing up, there were like one or two [women of color]. So one, we did not have that many people to look up to… I remember when I started out, I was told so many times 'you should probably do news, you'll have more opportunities there'…And I just held onto the fact that I really wanted to do sports. …Back when I started, I just really think women weren't given the respect or the opportunities that they have now. So, I mean, it's, it's grown and it's changed, but I definitely was one … in that first wave of women and Black women who wanted to get into sports [broadcasting].
Know Your Value: What's your advice to young women looking to break into the field?
Sargent Musselman: My number one thing I tell people is you have to understand what the job is …It's not 9 a.m. to 5 p.m.. You're gonna be working on holidays. You're gonna be working early mornings. You're gonna be working late nights. So you have to make sure that it's something that you're really passionate about, because you are gonna have to give up some of your life … The other thing is you need thick skin because it's a subjective business, and there are gonna be people who love you. And then there are gonna be people who do not love you. And you're just gonna have to find a way to deal with both and be able to love yourself through all of it.
Know Your Value: And what's your advice to women who aren't necessarily interested in sports journalism but are trying to navigate a male-dominated field?
Sargent Musselman: The number one thing is you really just have to stay true to yourself, and you have to have confidence in yourself. That definitely comes with age. I have a lot of friends who work in finance and they've had, you know, the same experience where they're going into these offices, where they're the only woman or one of a handful of women. And you just have to develop that confidence because you know, there's gonna be times when … you are not gonna want to let your voice be heard or your co-workers are just gonna have different opinions. And you just have to have the confidence in yourself that you deserve to be there.
Know Your Value: Is there a piece of advice you wish you could tell your younger self?
Sargent Musselman: …I wish I could tell my younger self, you know, your life is gonna be beautiful and wonderful and you're gonna be successful. Those were the things that I used to stress so much about, from the moment I got out of college. I was just so worried about finding that job and what's the next job. And so, I think I would tell myself, just, you know, chill out, enjoy the moment a little bit more and everything will work itself out.