When Larissa FastHorse was growing up in South Dakota, she was taught that Thanksgiving was a time for harvest and gratitude. The inaccurate portrayal of happy pilgrims and Indians that many students learn today was never part of story.
It's part of the reason why FastHorse, 51, decided to write the satirical comedy "The Thanksgiving Play," which tells the story of four woke, white theater makers who are writing a Thanksgiving play for students to perform. The liberal, well-meaning artists worry so much about not offending anyone and getting the story historically right, that things go very wrong.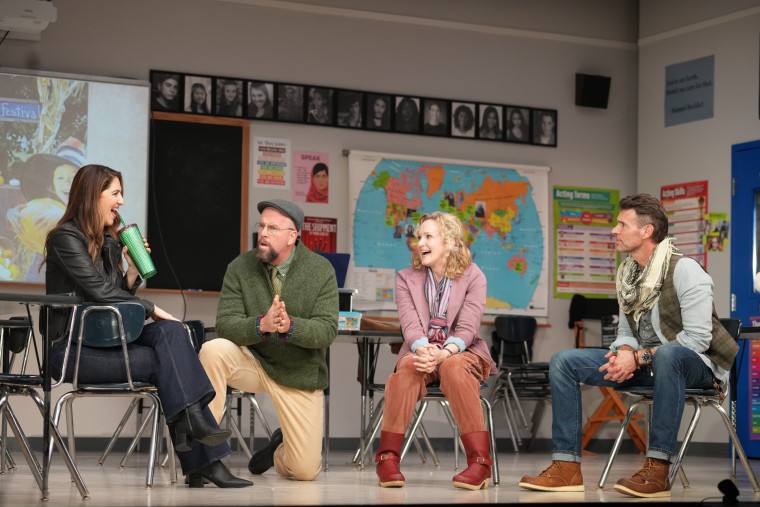 "[Growing up], I was aware that there was an Indigenous truth being left out of Thanksgiving, but even I was not fully aware of how fictionalized the national holiday story is until I did research from the play," said FastHorse.
With the play's opening this week, FastHorse is making history as the first Native American woman to bring a show on Broadway. It's being directed by Tony Award-winning director Rachel Chavkin and stars Katie Finneran, Scott Foley, Chris Sullivan and D'Arcy Carden.
FastHorse recently chatted with Know Your Value about her new play, the importance of representation, her career pivot from ballet dancer to playwright and more. Below is the conversation, which has been edited for brevity and clarity.
Know Your Value: You grew up in South Dakota. What are your memories of Thanksgiving during your childhood, and how did it influence the story you tell in "The Thanksgiving Play"?
Larissa FastHorse: The play is based in a classroom. My childhood classroom experiences with Thanksgiving was not like the play. My experience was [that Thanksgiving is] entirely a harvest festival. The way Thanksgiving is taught in schools with plays and pageants depicting pilgrims and Indians was completely new to me. It's been really big for me to realize what we have kids to learn about Thanksgiving, because my in my world, Thanksgiving is just about harvest, gratitude and thankfulness.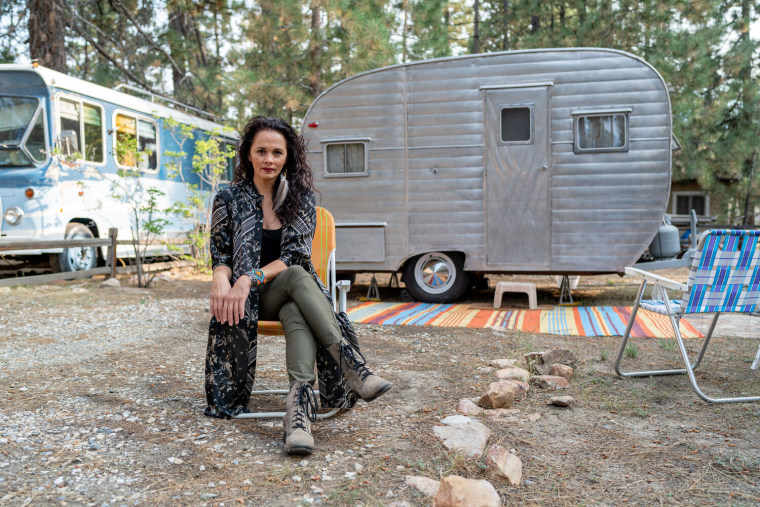 Know Your Value: You have gotten a lot of attention for being the first Native American woman to bring a show on Broadway. What does that honor mean to you?
FastHorse: It's huge. I go back and forth between being so excited and honored, and then feeling like a lot of pressure. The last Native American playwright that we know of was Lynn Riggs, and it was nearly 100 years ago. It's taken a whole new century for us to have another Native American playwright… me. I do not want that to happen again. I have a lot of pressure to make sure things go well so that it isn't another century before we have the many, many incredible Native writers we should have on Broadway.
Know Your Value: Tell us about the genesis of the play — and how you decided to weave a lot of humor into a story about America's dark history.
FastHorse: I'm a comedy writer. Comedy is also in Native American culture. We say, "you have to laugh or cry," so we choose to laugh … We deal with the dark history with humor and that's how we persevere and we survive. Using comedy is natural for me, and it's the indigenous way to deal with things.
Know Your Value: The play is being directed by Rachel Chavkin, best known as the Tony Award winning director of "Hadestown." On the surface, this may seem like an unlikely pairing. Tell us about this decision and how you two decided to collaborate.
FastHorse: Rachel Chavkin and I have known each other for 10 years, at least. We always have admired each other's work but this is the first project we've been able to work on together. Her sense of theatricality is incredible. She can take something very simple and make it large and beautiful and inviting. And she's hilarious. She's also our … secret weapon of understanding well-meaning, liberal white people. She does that role well for us because everyone else on the creative team is a person of color.
Know Your Value: What do you hope viewers take away from the play— and America's painful history of how they treated Native Americans?
FastHorse: First and foremost, I hope people have fun and can enjoy being together in the theater, at the play, as a comedy within a satire. But then I think also it should leave people asking themselves about what they were and were not taught: Why wasn't I taught these things? Why didn't I learn different history? Why is it so hard to find history about indigenous people and the lands we're standing on? I want people to start to really question why Native American history is taught how it is, why there's an access or lack of access to certain information, and why we haven't sorted it out sooner and started to do better.
Know Your Value: Let's talk about career pivots. You began your career as a ballet dancer and choreographer but left that dream behind when you were forced into early retirement due to an injury. What was the pivot to playwright like?
FastHorse: A career pivot is really hard… Suddenly you have to let go of what you know (in my case dancing) and find out what to do with the rest of your life. I was fortunate and found an organization called Career Transitions for Dancers. They give career counseling, training and education to the dancers both during and after their career to figure out what to do next. I really needed that at that time. They helped get me into writing.
I worked in film and TV writing first, 15 years ago. At the time, I was really disappointed in how Hollywood was depicting Native people and Native stories. It just wasn't accurate, and I felt like I was fighting all the time to share true Native stories. Eventually theater found me through the Sundance Institute's Indigenous Program. I really was excited about how theater wanted to do things right with storytelling. I'm now back in film and TV because things have changed in the past 15 years. And now, theater, film and TV are trying to do things right as