Ayesha Curry is making it clear that she is changing the game for women of color not only in the food industry, but in every space through her mission to improve representation.
"I say level the playing field, but it's [about] making a new playing field," the chef, entrepreneur and mother of three told MSNBC's Symone Sanders-Townsend at the Forbes 30/50 Summit in Abu Dhabi Wednesday.
Curry, 33, is the founder and CEO of Sweet July, a lifestyle brand that uplifts Black-owned and female-founded companies through an in-store and online shop filled with hand-picked items by Curry and her team.
Her start in the industry arose from the love and communication around what food meant in her home as a child. Curry grew up reading cookbooks and watched the Food Network, but knew one thing was missing: someone who looked like and represented her as a Black woman.
At 23 years old, Curry set out to establish herself in the food space, but recalled the discrimination she faced when she was told she was "too young" and "there's no demographic" for her in the industry.
"It was just super defeating, but I kept chugging along," Curry said.
That persistence paid off. A decade later, Curry is blazing trails through her quarterly lifestyle magazine Sweet July, which launched in 2019.
"It was long overdue," Curry said. "It's been a really great tool to be able to tell women my story…For us it's about telling every woman's story."
The success of the magazine prompted her to open a brick-and-mortar Sweet July storefront and café in Oakland, California. She then created the storefront's website and that is how subscribers now have access to thoughtfully curated boxes each quarter.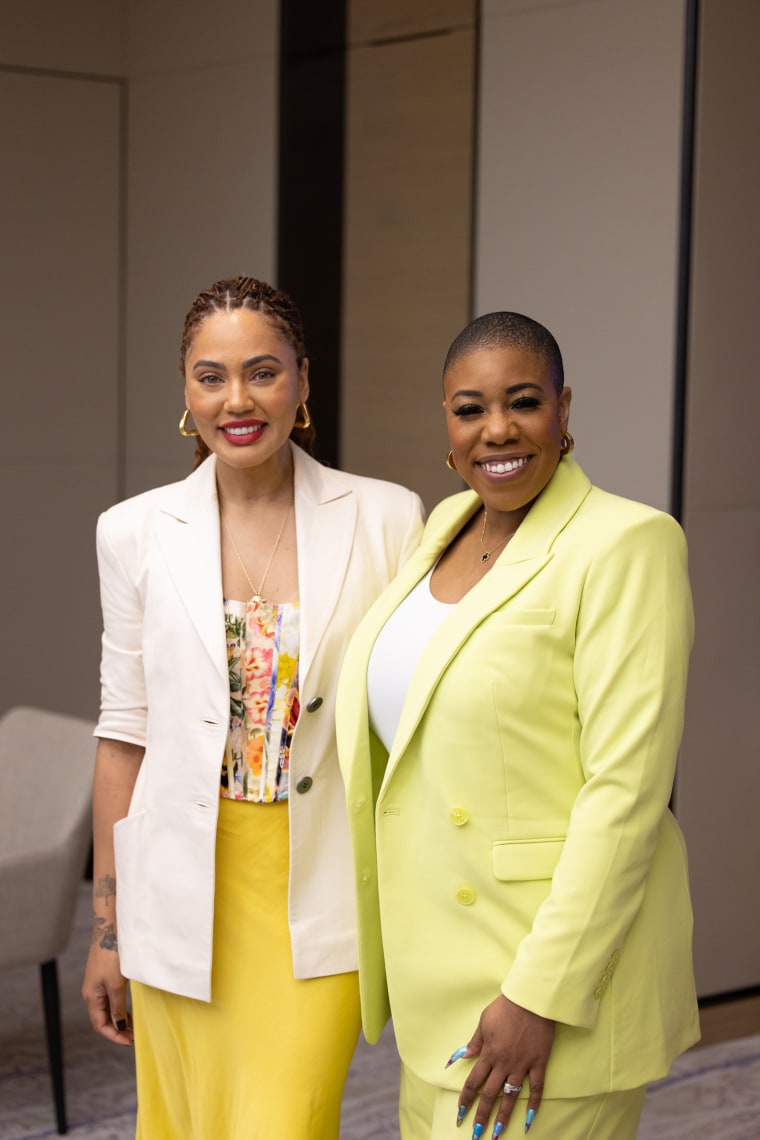 A member of the Forbes 2018 "30 Under 30" Food and Drink list, she's also the New York Times bestselling author of the 2016 cookbook, "The Seasoned Life" and the 2020 cookbook, "The Full Plate," which is filled with accessible recipes for people who don't have time to cook for more than an hour.
"Nobody has time for that anymore and that's just the reality of the situation," Curry told Sanders-Townsend. "I think that's what's made the messaging of how I cook and what I put out there more accessible."
Whether you are just starting out in the kitchen, an air fryer warrior or master chef, Curry considers the amount of time it will take for you to get your family back around the dinner table. Ultimately, it goes back to that message of love and communication that's accompanied by a good meal.
"Food is a vessel for communication," she said. "I feel like those meals … tell a story."
Curry's entrepreneurship has expanded the food space as well as heightened visibility of Black and women-owned businesses. She has been intentional in using her platform to create more opportunities for women of color and amplify their businesses.
She and husband, NBA basketball player Stephen Curry, are also making it a point to provide nutrition, access to quality education and safe places for kids to play in the Oakland community through their charity, the Eat. Learn. Play. Foundation.
The power couple partners with local businesses, restaurants and organizations to create safe places for children in an area they've called home for many years.
"Our hope really is that people look at the model and see that it works and see that the numbers are changing, and then implement that model in their own communities," Curry said.
But Curry has also advocated for national policy change.
During the pandemic, she called former House Speaker Nancy Pelosi to lobby for an extension of the school lunch programs even as schools were locked down.
She also testified virtually before the House Committee on Rules and the Congressional Hunger Caucus to help close the childhood food gap.
Curry's fight for advocacy and representation hardly stops there. In August of last year, she secured a deal with publisher Zando to publish books under the Sweet July Books imprint.
In an effort to spotlight writers of color, Curry told Sanders-Townsend that one of the first books they plan to publish will be a memoir of Fawn Weaver, CEO of Uncle Nearest Premium Whiskey, the fastest-growing American whiskey brand in U.S. history.
"I cannot wait for people to hear her story," Curry said. "So I'm very excited about that."
The entrepreneur, TV personality, chef, author and mother thrives on creating ways to amplify voices of color, proving that not she's not only in a lane of her own, but she's adamant about bringing other women up with her.