A story that could define 2024
When it comes to the Republican presidential contest in Iowa, the evangelical vote is often the golden ticket.
Despite paying hush money to a porn star and refusing to say whether he would support a national abortion ban, Donald Trump is currently defying the odds with these voters, holding on to about 58% of the evangelical vote, according to this Des Moines Register poll from March. Can he hold on to that edge? 
I asked Politico reporter Jonathan Martin, Bulwark writer-at-large Tim Miller and Des Moines Register chief politics reporter Brianne Pfannenstiel about this on our first exclusive Peacock episode of "Inside With Jen Psaki" — and they seemed to suggest there may be an opening. 
I'll be watching to see whether the faith-based messages of Sen. Tim Scott or former Vice President Mike Pence will take hold, or if Gov. Ron DeSantis' critiques of Trump's abortion record can make any headway with this key demographic as the nomination process progresses.
---
The week in hypocrisy
Republicans really like to pitch themselves as the pro-business, anti-cancel culture party. But lately, they have seemed awfully anti-business and pro-cancel culture. You've seen the headlines — calls to boycott brands like Bud Light and Target for their LGBTQ-friendly campaigns and merchandise, and even online efforts to tank stock prices.  
The reactions from these companies have been mixed. Target announced it would be pulling some of LGBTQ-themed items from its stores while Bud Light pledged $200,000 to the National LGBT Chamber of Commerce.  
But this trend ultimately says much more about the people attacking these companies than it does about the companies themselves. And it isn't the first time certain brands have engaged in similarly inclusive campaigns. So why the sudden spike in vitriol? Simply put; The modern-day American right has made its brand manufactured moral panic. 
I guess the party of free speech and free markets and big business draws the line at being openly accepting of gay and trans people.
---
Someone you should know: Brianne Pfannenstiel
Republican 2024 hopefuls have already started making the rounds in Iowa. DeSantis spent his first full day of campaigning in the state, Pence has plans to launch his campaign there next week and Nikki Haley has hosted over 20 campaign events so far in the Hawkeye State.
Iowa may not be a key state for Democrats, but it certainly can serve as a launching pad for Republican candidates. The Iowa caucus is the first contest of the 2024 primary season, and someone that I'll be following closely is Brianne Pfannenstiel over at The Des Moines Register. Brianne is on the ground talking to voters about what issues are most important to them, and reporting from the candidates' rallies and events. She was also a moderator at the Iowa Democratic debate in the 2020 election.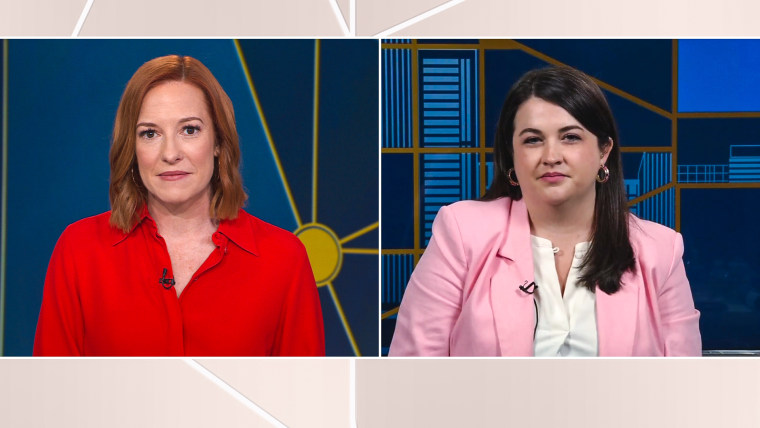 Brianne is on the front lines, and can offer key insights as the Republican primary field continues to take shape. You can follow her on Twitter, @brianneDMR. 
Read Brianne's latest:  
Iowa Republicans eye a January caucus date: Why the calendar is more complicated this year 
5 times Ron DeSantis took some pointed jabs at Donald Trump in Iowa while campaigning
Is Ron DeSantis ready for Iowa prime time? What to watch in first presidential campaign trip
Donald Trump to travel to Iowa just after Republican rival Ron DeSantis swings through state 
---
James Comey's weekend routine: 
What show are you bingeing on right now? 
"The Silo," on Apple TV. 
What's the last book you read? 
"War and Peace" (I'm not making that up; took me a long time but I finally finished it.) 
What time do you wake up on the weekends?  
Around 9. 
How do you take your coffee?
With half and half.