Let me finish with a message to women, young women, girls, fathers and mothers of girls.  Okay, to everybody.
Isn't it great to see pictures of those bright young American women out there going for the World Cup?  Is there another word but sheer delight in seeing their love of sport, love of the physical joy up there in Montreal beating the Germans (that excellent team) except when they came up against the U.S. women?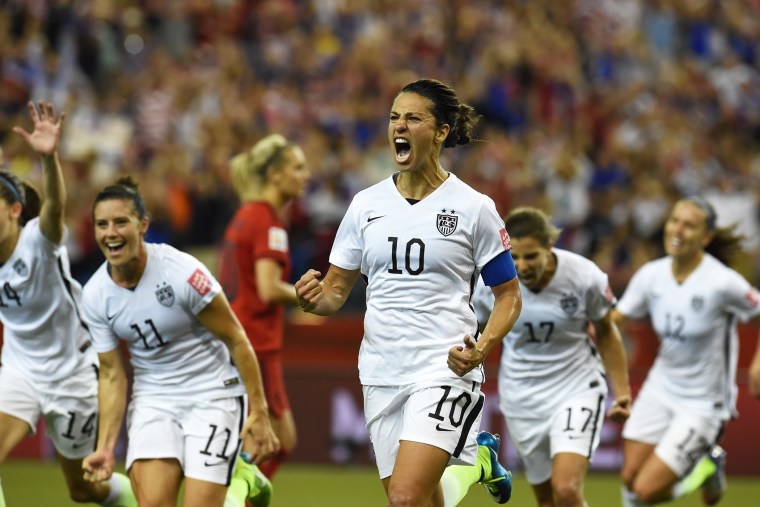 If you think this doesn't matter to this country or to what we think of ourselves, well, I don't know what to say to you.
But if you do get a kick out of this sensational run the United States women's soccer team is making for the Cup, let's not forget why we're in this thing, and at the very highest levels.
Back in 1972, the United States Senate, led by Ted Kennedy and Indiana's Birch Bayh and Hawaii's Patsy Mink, got us something called Title IX.
Here's what it put into law: "No person in the United States shall, on the basis of sex, be excluded from participation in, be denied the benefits of, or be subjected to discrimination under any education program or activity receiving Federal financial assistance."
That's Title IX. And it's made all the difference.
If you're in a family of women athletes, like ours, you know the joy that girls get from soccer. Our Caroline is a midfield stalwart. Kathleen played tennis for Stanford and while they were national champs the women on the team still had to pay for their transportation on road games.
So times have changed. Our women are world contenders because we gave them an equal chance here at home.