He's not backing down.
New Jersey Governor Chris Christie says he has "no second thoughts" about placing an involuntary quarantine on Kaci Hickox, a nurse who has tested negative for Ebola, not once, but twice.  The Republican governor doesn't seem to understand why the decision has been met with so much antagonism.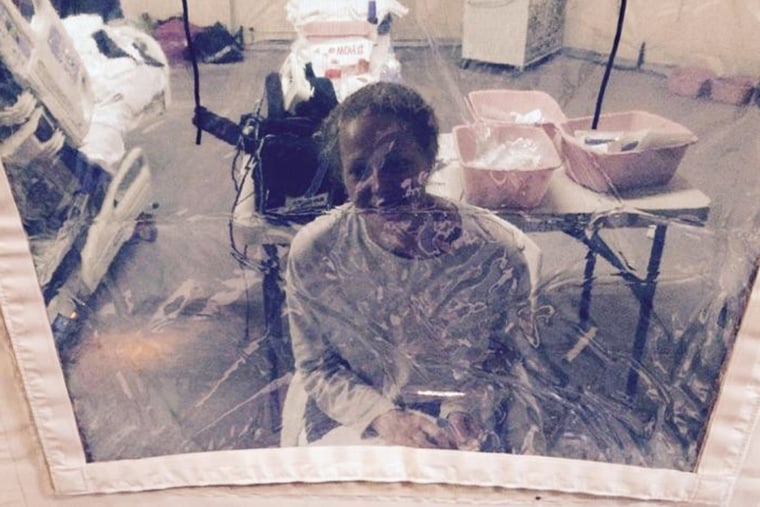 When asked how he felt about the Doctors Without Borders nurse's claims to sue the governor for her mistreatment, Christie scoffed the claim.
"There's been all kinds of malarkey about this. She was inside the hospital in a climate-controlled area with access to her cellphone, access to the interview, and takeout food from the best restaurants in Newark," Christie insists.  "She was doing just fine."
But the critique keeps on coming, including from President Obama himself, for Christie's overzealous Ebola prevention techniques, opting to inflict a mandatory quarantine on travelers who return from West Africa and have been in contact with Ebola patients.
According to Washington bureau chief of Mother Jones David Corn, who joined Chris Matthews to discuss Christie's recent crusade for national health, the governor's thought process of welcoming workers who risked their life to contain the spread of the disease with "brash treat and the best takeout food from Newark" is mind blowing.
Reporters with Gawker contacted some of these so-called "best restaurants" and were told that Hickox did not receive delivery from any of them.
Christie's justification for comfortable involuntary quarantine showcases the national discussion between containment and basic human rights. As the discussion continues, with President Barack Obama believing the answer is to view the problem with rationality and not fear, it looks like Christie won't back down when it comes to making rash decisions in the name of national security.
The governor did allow Kaci Hickox to return to her home in Maine…where no amount of Newark takeout will placate the ongoing debate on how to deal with the introduction of Ebola in the United States.