Two embattled Democratic Senators, Mary Landrieu of Louisiana and Mark Pryor of Arkansas, threw the first punch at their opponents in debates Tuesday night. 
Sen. Landrieu slammed her Republican rival, Rep. Bill Cassidy, for voting against disaster relief for his own district after Hurricane Isaac, which struck Louisiana in August 2012.  Pryor continued his line of attack from Monday's Arkansas Senate Debate, saying his opponent, Republican Congressman Tom Cotton, is an overly ambitious upstart, who is in the pocket of out-of-state billionaires who are expecting a return on investment.  
"I listen to you," Pryor said.  "He listens to billionaires."  
Both Republicans, Cassidy and Cotton said their Democratic opponents were the "deciding vote for Obamacare" and rubber-stamps for the President's agenda.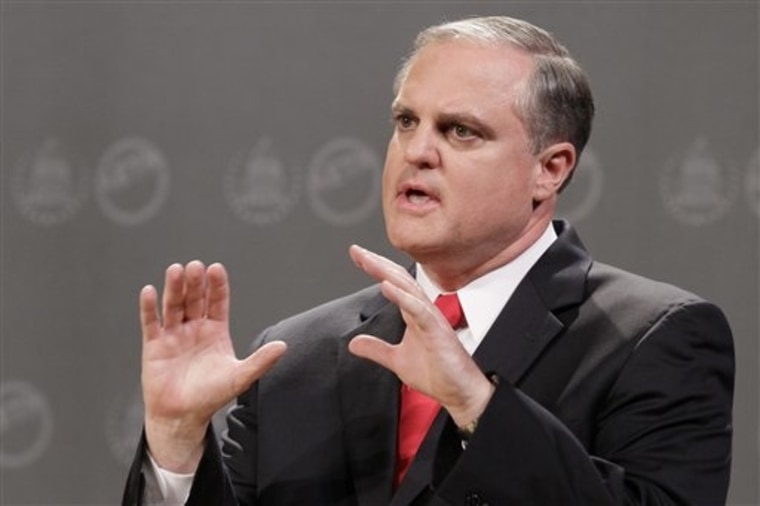 Citing Cotton's opposition to the Farm Bill, Pryor accused his opponent of carrying water for his billionaire backers.  He referenced an audio tape of Cotton's meeting with wealthy donors at a California luxury resort, where he received an ovation for standing against the legislation. 
"He was the only one in Arkansas to do it," Pryor said.  "It's Arkansas' largest industry."
Cotton said he voted for a "real Farm Bill" in the House but President Obama threatened to veto it because he wanted more food stamp spending. The food stamp program has been part of the federal Farm Bill for decades and was originally included to create a strategic compact among rural and urban lawmakers to ensure its passage  
"The Farm Bill was a bad deal for Arkansas farmers," Cotton said.  
Meanwhile, Landrieu says Cassidy wants to "sneak his way into the U.S. Senate with bogus television ads paid for by the Koch brothers".  But Cassidy claims Harry Reid and Michael Bloomberg will do "whatever they can" to get Senator Landrieu re-elected.
"Mayor Bloomberg likes her because she agrees with him on restrictions to gun rights," Cassidy said. 
Landrieu lauded Cassidy for showing up to the debate while she chastised him for ducking out on previously scheduled appearances.
"For the last eighteen months, Congressman Cassidy has been running away from his record," she said.  "Sending a rookie to the Senate is not going to cut it."
Their sharpest point of disagreement came over health care, which Cassidy referred to as the "Unaffordable Care Act."  Cassidy, a doctor, says the system should line up to serve the patient, but under Obamacare, the bureaucrat lines up to serve the bureaucrat. 
But Landrieu says Cassidy introduced similar health care legislature in the Louisiana State Senate.  
"He will not fess-up to that," Landrieu said.  "He only wants to talk about President Obama."
Both Landrieu and Cassidy, however, agreed that health care is a right and not a privilege.