Venezuelan President Hugo Chavez, one of Latin America's most fiery and controversial socialist leaders, succumbed to his long-running battle with cancer at the age of 58 on Tuesday.
A state funeral will be held for Chavez on Friday.  The feelings from Venezuelans are mixed—many are mourning Chavez, who rose to power in 1999. Some are celebrating, hoping the leader's death will bring change to the country and it's relationship with the U.S.  And some are worried about what that change will look like, as an election must take place in the next 30 days.
As Venezuelans and the world wait to see what's in store for the country's future, here's a look at the past, and some of the most memorable, eyebrow-raising Hugo Chavez moments.
1. George W. Bush is Satan
In 2006, Chavez was heavily criticized for calling then-U.S. President George W. Bush "the devil" during a speech at the United Nations General Assembly. "The devil came here yesterday" he said, referring to Bush's speech in front of the U.S. "It still smells of sulphur today." He insisted that Bush believes he is the "owner of the world."
Visit NBCNews.com for breaking news, world news, and news about the economy
2. The U.S. is to blame for Haiti's earthquake
In 2010, Chavez faulted the U.S. for Haiti's devastating earthquake. He argued the U.S. was testing a "tectonic weapon" that caused the natural disaster. Chavez argued the earthquake was a result of "weapon earthquakes" the U.S. created that would eventually be used to take over Iran.
3. The plug for Noam ChomskyWho knew Chavez was such a book worm? In 2006, he praised left wing author Noam Chomsky's book, "Hegemony or Survival: America's Quest for Global Dominance" at the United Nations. He called it an "excellent book," and urged at General Assembly to read to book to explain "what has been happening in the world throughout the 20th Century." While holding up a Spanish version of the book, he added that the  "hegemonic pretensions of the American empire are placing at risk the very survival of the human species".
4. Sparks a verbal brawl with Spain's kingThe King of Spain demanded that Chavez "shut up" at the Ibero-American summit in 2007. It started when the Venezuelan leader continually referred to former Spanish Prime Minister Jose Maria Anzar as a "fascists," adding "fascists are not human. A snake is more human." Spanish King Juan Carlos was infuriated. He turned to Chavez and asked "Why don't you shut up?"  He then left the chamber.
5. 'The stupid people from Fox News'
In 2008, during a trip at the United Nations, Chavez, alongside his translator, told a Fox News producer how "stupid" his network is. He added, "The stupid people from Fox News--not you, of course."
6. Capitalism killed mars.Chavez argued in 2011 that capitalism is to blame for the lack of life on Mars. "I have always said, heard, that it would not be strange that there had been civilization on Mars, but maybe capitalism arrived there, imperialism arrived and finished off the planet," Chavez said in speech to celebrate World Water Day. He also warned against water drying up on Earth."Careful. Here on planet Earth where hundreds of years ago or less there were great forests, now there are deserts. Where there were rivers, there are deserts," Chavez said, sipping from a glass of water."
7. Connecting his cancer to U.S.
In December 2011, Chavez went as far to suggest the U.S. might have been behind the cancer affecting several leaders in South America, including him and Argentine President Cristina Fernandez de Kirchner. "It's very difficult to explain, even with the law of probabilities what is happening to some of us in Latin America," he said in a televised speech. "would it be so strange that [the U.S.] invented technology to spread cancer and we don't know about it for 50 years?"8. His 9 hour speechThe man could talk. Last year, Chavez who was running for re-election at the time, gave a speech to the National Assembly that lasted more than nine hours. Chavez had recently had surgery to remove a malignant tumor, and the gist of his message was that he was back and better than ever. He later told local media he had lost track of the time.9 Pulling out the big gunsThat's a strange way to celebrate someone's birthday. In 2012, Chavez pulled out a pair of pistols that supposedly belonged to independence hero Simon Bolivar during a ceremony to mark his birthday in Caracas.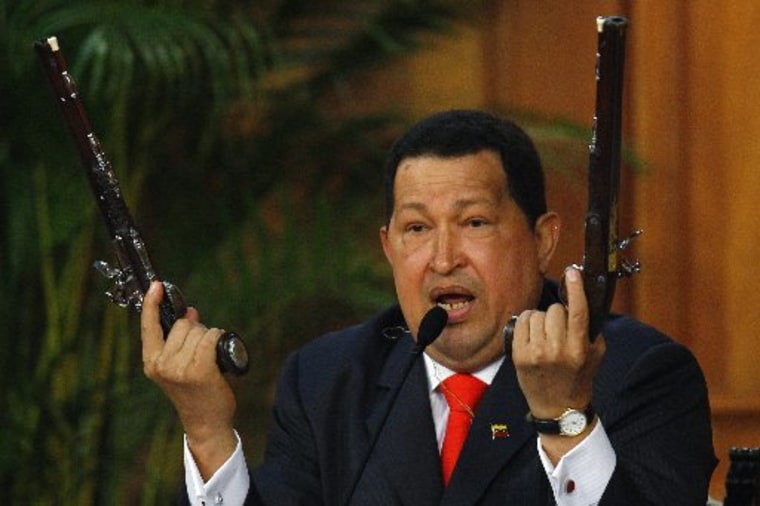 Venezuela's President Hugo Chavez shows the pistols of independence hero Simon Bolivar during a ceremony to mark the his birthday in Caracas in this July 24, 2012 file photo. REUTERS/Carlos Garcia Rawlins/Files 10. His ode to Hillary ClintonChavez isn't afraid to sing--loud and proud. In 2010, he improvised a song about his rocky relationship with then Secretary of State Hillary Clinton. She had been touring Latin America in the past week. Lyrics included, "I'm not loved by Hillary Clinton...and I don't love her either."