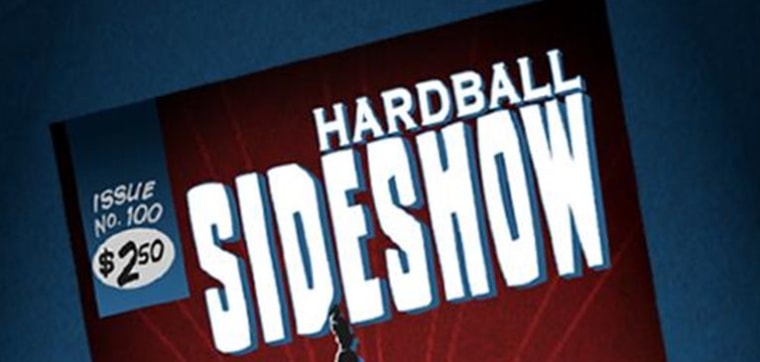 Time now for the Sideshow!
A couple of bees stole President Obama's thunder during his reading of "Where the Wild Things Are" at the White House's annual Easter Egg Roll. As bees began to buzz around the area, children began to scream while Obama read the story.
"Oh no, it's a bee. That's OK, guys. Bees are good, they won't land on you. They won't sting you, they'll be OK," he said. The kids were still unsettled by the bees and continued to scream.
"Hold on! Hold on! You guys are wild things! You're not supposed to be scared of bees when you're a wild thing!" the President said as he continued to read his story. Watch the video below.
Next up, Duke wasn't the only one with bragging rights when all was said and done in the NCAA men's basketball tournament. Following the Blue Devils' victory over the University of Wisconsin, Mitt Romney also attained a top ranking from his eerily accurate NCAA bracket that put him in the 0.1%. Romney had correctly chosen the Final Four teams and six of the Elite Eight. Out of 11.5 million brackets filled on ESPN, Romney's bracket ranked 6,326th, placing him in the 99.9th percentile. With Duke's win, Romney took the opportunity to joke about the $10,000 wager to Gov. Rick Perry during a 2012 Republican primary debate:
While Romney's picks fared much better than President Obama's, who was only in the 40th percentile, it didn't quite match up with another March Madness bracket.
Sam Holtz, a sixth-grader from Chicago, completed a near perfect bracket that tied him for first place out of 11.5 million entries in ESPN's annual contest. However, the network said he was ineligible to claim the top prize due to his age.  Holtz is only 12 years old and ESPN requires participants to be at least 18 years of age.  Despite his age, ESPN is still putting together a prize for him.
"We plan to have fun with this," said Kevin Ota, spokesman for ESPN Digital Media. "The great thing is that this kid beat all these experts out there."
Lastly, Vice President Joe Biden had a precious bonding moment with a Bloomberg this week.
Former New York  City Mayor Michael Bloomberg was presented with Honorary Knighthood Wednesday.  During the ceremony, his daughter Georgina posted a photo of Vice President Biden holding her 15-month-old son, Jasper...with her son's pacifier in his mouth!
"What's a boy to do when the Vice President steals your pacifier?" she wrote on Facebook.