Embattled Democratic Sen. Mark Pryor of Arkansas came out swinging in the first of two debates over twenty-four hours with his Republican rival, Rep. Tom Cotton. 
Pryor called himself one of the most independent politicians in the U.S. Senate and said the election is a "business transaction" to Cotton who has been portrayed as an opportunist driven by his ambition and beholden to his billionaire donors. 
"Congressman Cotton has let his ambition get ahead of him," Pryor said. "His rhetoric is very clever and that's great for advancing his political career - that's going to help him climb the political ladder."
Sen. Pryor criticized Rep. Cotton for polling on this race only a month after Cotton came into his Congressional seat.
"He didn't even know where the bathrooms were and now he thinks he's entitled to this Senate seat," he said.
Cotton called Pryor a liberal Democrat who only cares about preserving President Obama's legacy.  The Republican Congressman labeled the Democratic Senator a rubber stamp for the President who, Cotton says, votes with him 93% of the time. 
"Whenever Barack Obama wants Mark Pryor's vote, then Barack Obama gets Mark Pryor's vote," he said.
Pryor slammed Cotton in his opening statement for the Congressman's meeting with the Koch brothers at a luxury hotel.  Pryor says the billionaires will expect a return on investment if Cotton is elected.  The Democrat also referred to the audiotape, which revealed Cotton's meeting with the Koch brothers where he voiced his opposition to the Farm Bill.
"They are investing in Tom Cotton just like they would invest in a company," Pryor said.  "Because they are investing in a payback… Applause is still ringing in his ear and those dollar signs are still in his eyes.  The Arkansas Senate seat is not up for sale, it belongs to you."
Pryor has also made Cotton's vote against the Farm Bill central to his campaign and earlier Monday chastised the Republican for being the only member of Arkansas' Congressional delegation to oppose it.  Cotton said the Farm Bill was a bad deal for Arkansas farmers and said he supports separating the food stamp program from the legislation in favor of what he calls a "real farm bill."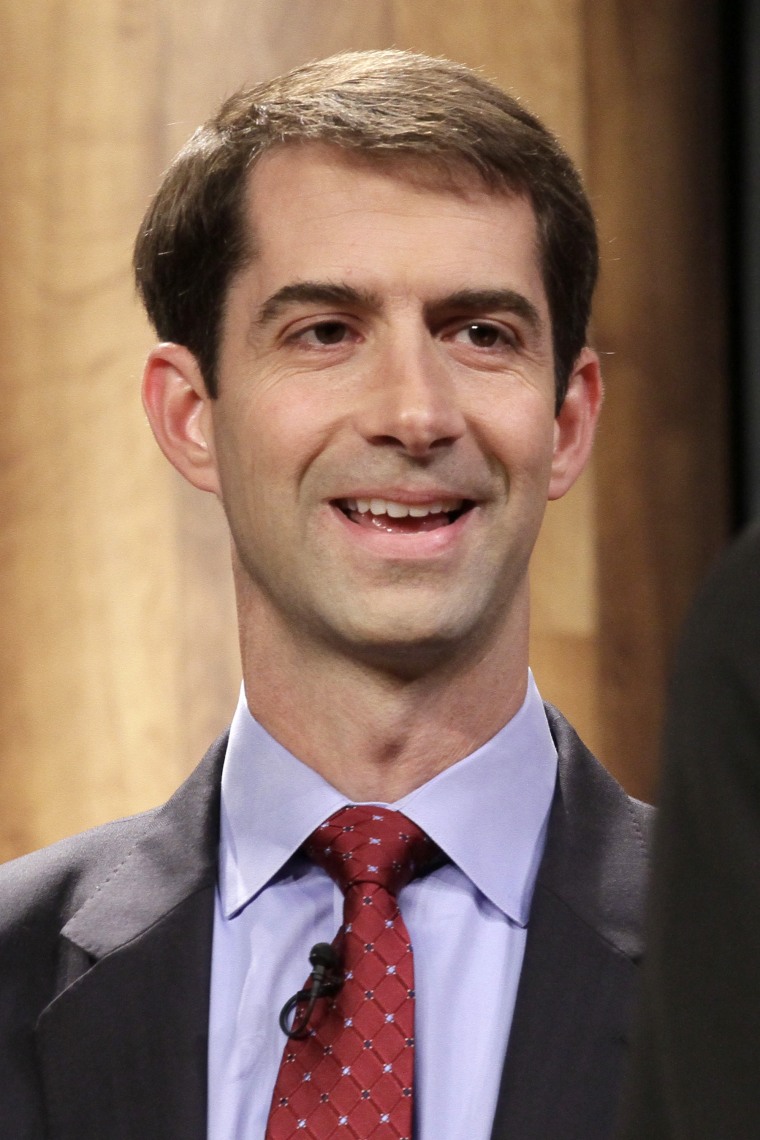 Cotton also made reference to his military service as he defended himself from Pryor's attacks and challenged Pryor's toughness and leadership in office. 
"I've dodged real bullets," he said.  "Metaphorical bullets don't bother me."
"Senator Pryor talks about lessons on leadership in Washington but I learned about leadership on the streets of Baghdad." Cotton said. "Senator Pryor is not tough enough to stand up to Barack Obama." 
A CBS New York Times Poll released last week showed Cotton with a four-point lead over Pryor.  Both men meet again Tuesday at the University of Arkansas-Fayetteville for their final debate.