It's great to back home in Philadelphia and to this important graduation. 
My earliest memories are with my parents and grandparents, in the heart of North Philly, at Hunting Park and Broad. 
Believe it or not, I can remember the horses that used to deliver the milk up and down 15th street as my brother and I sat on grandmom's porch.  I can remember the long horse trough up at the corner of Hunting Park and Broad, right next to the subway station where the horses would splash way as they drank late in the afternoon.
One of my earliest memories was being next door at the Academy of Music (believe it or not) in 1949, as my dad graduated from Drexel.  That's 66 years ago! 
"People want the guy to show up. Same is true for you. You want to meet the right guy? You want to find the best job you can get? Show up!"'
I talked to my older brother yesterday.  He said that Mom said we were running up and down the aisle causing all kinds of trouble.
So to the children of the graduates here tonight, watching your parents get their degree, you're starting out the same way I did!
Anyway, I've been given my job description here.  Speak for five to seven minutes and say something important, something useful or inspiring.
I'm going for useful.
I've spent the last forty-some years watching politicians in action.  Sometimes I have to beat the truth out of them.  Other times I just watch and learn...learn how people get ahead in this world.
You know, times change.  When I wrote speeches for the President on Air Force One, we still used Selectric II typewriters.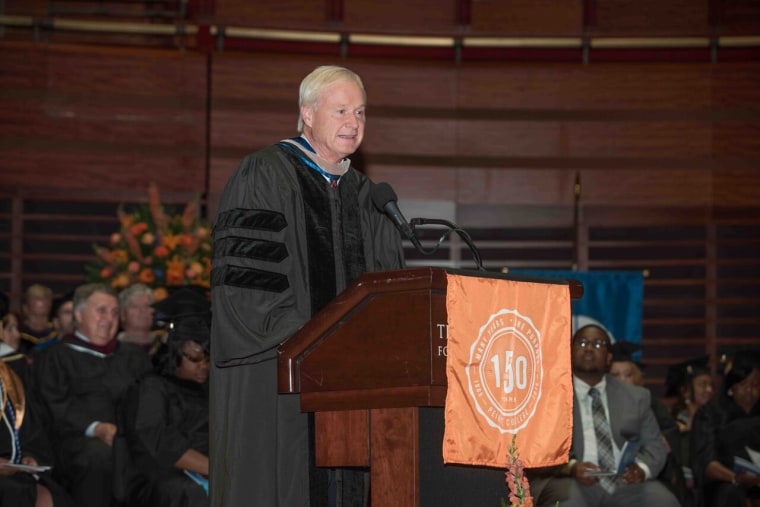 When I began writing my newspaper column, there were columnists around who'd filed on Western Union, by telegraph.  
But one thing that hasn't changed, that won't change, is people.  The need to deal with people.  If you want to get ahead in this life, you've got to find ways to deal with real, live, sometimes difficult people.
And the people who know best how to do it are politicians.  They deal with people for a living, they get ahead because people vote for them, let them run the country.
So I've learned some things from them. When I'm not beating their heads in trying to get answers, I've watched how they do they're thing.
So now, for seven minutes, I'll give you some of their tricks.
Show up!  When there's a fire, the smart mayor shows up for it. He stands across the street and answers reporters' questions.  People like to see their mayor on the job.  Same with neighborhood meetings.  People want the guy to show up.  Same is true for you.  You want to meet the right guy?  You want to find the best job you can get?  Show up!  Nobody's coming to check you out, to ask what your ambitions, your dreams are when you put your head on the pillow.  Don't say "I've sent out some emails."  Show up!  It's like dating.  You've got to be out there if you want to meet someone.  You've got to be there when the job opens.  People give two weeks notice.  Be there in that two weeks and you've got a shot.  When the boss looks up to see who's there you been there.  
Ask!  If you want a job, say you want the job.  Say what you'll do with it, how you'll make it work for the boss.  If you want to get married, ask someone to marry you.  Don't go for that nonsense that it's the man who has to ask.  Don't count on that, baby.  If you want something, ask for it. That goes for a job, it definitely goes for a promotion.      
Listen!  I've said this to my kids about teachers.  Pay attention in that interview to what the person is saying.  Follow up on it, get in the conversation about what the job is that needs getting done.  Bill Clinton had a guy going to school with him, couldn't get to first base with a girl he really liked.  "Did you ever try listening?"  That was Big Bill's recommendation.  "They find it flattering." Take it from the master. 
Don't say "no" to yourself.  There may be an opening in a place where nobody like you has ever been.  Go for it!  What are you going to lose?  Make them say "No."  Never say "no" to yourself.  If you do that, they win; you lose and so do all the other people who give up asking.
Get in the Game.  Jimmy Schuhl was the best athlete growing up.  It helped that he had an older brother who was.  He would stand alongside the basketball court at Lumar Park and throw the ball back in when it went out of bounds.  At supper time, some big kid had to leave.  "Hey, punk, wanna play?"  It's how you make the team.  You learn the people's names, the jobs they do – and you're there when lightning strikes. 
Do the job you've got.  In sports they talk about the team that loses the game because it's thinking about the next game.  Do the job you've got.  Keep your mind on where you want to go. 
Stick together.  Ever hear of the alley-oop play?  It's when you throw the ball to the player under the basket and he puts it in.  There will be times when you hear about an opening and you know someone who's just right for it.  Pass the ball! 
You and your friends are one of the best assets you have walking out of here tonight.  Don't let those friendships die.  You never know when a pal is going come through for you.  You can be spies for each other...and that's the truth. 
I love #7.  It's what time "Hardball's" on.  I'm asking you to watch.   
Good luck out there.  As the great Walt Disney used to say – because he believed it himself. 
"It's what you do with what you got that counts."