Arguably the most endangered incumbent in the country, Pennsylvania's Governor Tom Corbett faced off with his Democratic challenger Tom Wolf in the first of three televised debates Tuesday… and the sparks did fly.  The candidates differed over cuts to education, taxes, the minimum wage and the overall economic direction of the Commonwealth.
The Republican governor took on his businessman opponent before a crowd at the Pennsylvania Chamber of Commerce dinner, telling the audience the state economy is better off now than it was four years ago.
Corbett, at times, behaved more like a challenger than a sitting governor, going on offense early and challenging Wolf on numbers in his economic plans and Wolf's charges against education funding.  
 "He doesn't want to talk about statistics," Corbett said.  "Mr. Wolf's supporters in the public sector unions have spent millions to put out the lie that I cut education.  I did not."
But Wolf, a political neophyte who has never been elected to public office before, is not your typical Democrat and went out of his way to demonstrate his independence from Labor.  Wolf, who self-funded his campaign for the most part, spent more than $10 million of his own money to win the Democratic nomination.
"In the primary I did not get the endorsement of most of the Democratic powers that be," Wolf said. "It was liberating."
"I am a fee agent," Wolf continued. "I am not pandering to anyone in what I do."
Rebuffing Corbett's attempts to engage directly, Wolf, instead, responded to nearly every question by pivoting to his experience in business  
"I'm a fan of the private sector," Wolf said.  "I come out of the private sector and I built a business, actually twice… We all run a business.  Look at what's going on around us - it's not working." 
During the discussion on education funding, Corbett grew frustrated and chastised Wolf for a lack of specificity in his answers.  
"We're not hearing any answers on how we get there," Corbett said. 
But Wolf continued the attempts to endear himself to the pro-business audience by criticizing Corbett's inability to grow revenue.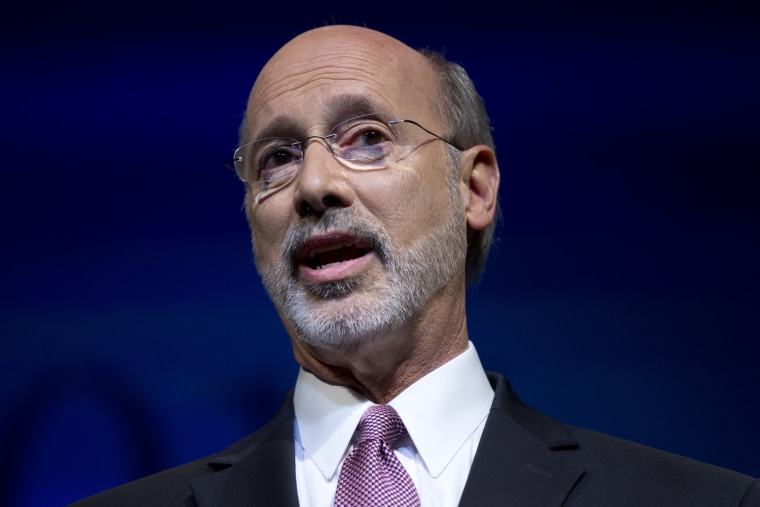 "When I went to my business, I had to do that," Wolf said.  "The very first thing I did was figure out how to make those revenues grow… We don't have a business plan that's working." 
Even while acknowledging his support for an increase in the Federal Minimum Wage, Wolf made sure the fears of the business owners in the room were allayed by returning to his own private sector experience.  
"I raised hourly rates by a great a deal," he said.  "Not only did it not destroy jobs, it actually increased them."
The latest polling shows Wolf with a 21-point lead according to a Morning Call survey released on September 19th.  If Wolf succeeds in November, Corbett would become the first Pennsylvania governor to lose re-election since the state constitution was changed in 1968 to allow governors to seek a second term.
"I'm an unconventional candidate and I understand that," Wolf said. "I don't look like candidates you've seen before in the commonwealth."