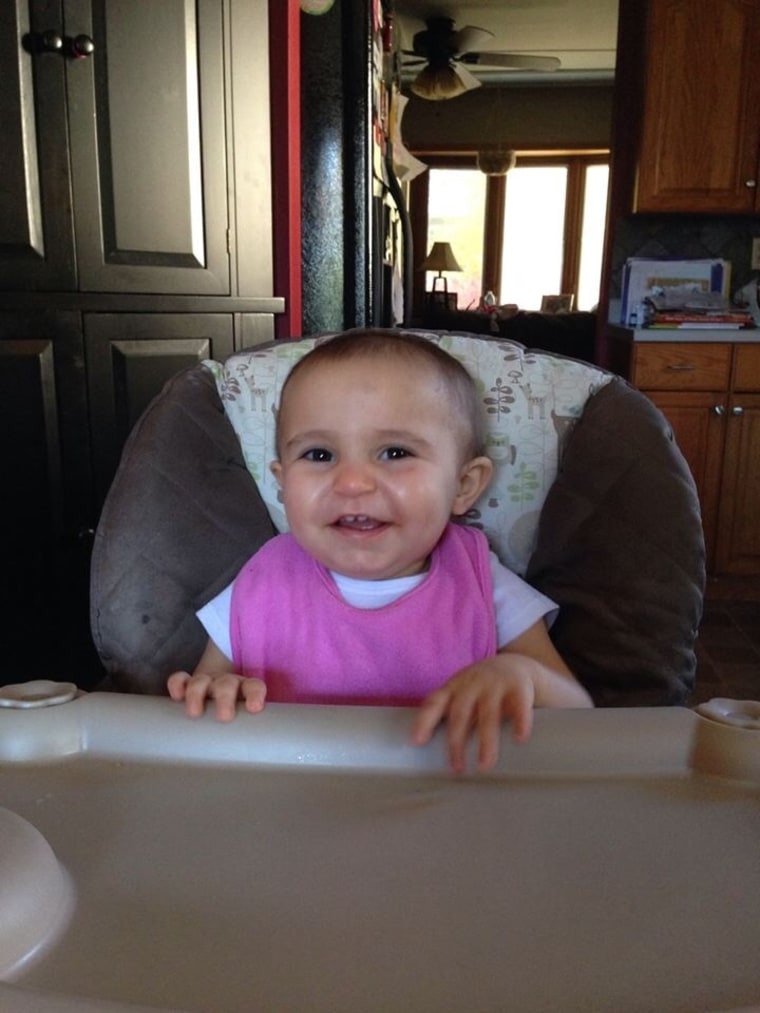 There is a glimmer of hope for families of epileptic children across the country in the form of a marijuana oil. It could mean no more sleepless nights, no more emergency room visits, no more holding your breath while waiting for the next seizure to grip their child's body.
But even as state lawmakers across the country pass legislation to allow the use of a marijuana extract to treat epilepsy in children, some families are discovering a new front to the fight: the battle to implement the laws in a timely manner. 
It's a battle Paula and Phil Joana know too well. The New Jersey couple lost their 15-month-old daughter, Sabina Rose Joana, last December to a condition caused by Dravet syndrome. The Joanas were attempting to comply with New Jersey's medical marijuana laws--a process that takes months between the required number of doctors to see and paperwork to complete. 
In order to become a registered patient with the medicinal marijuana program in New Jersey, one must be a resident of the state and must also be diagnosed with a "debilitating medical condition by a New Jersey physician registered with the medicinal marijuana program."
Which is where things get complicated: in order to qualify in New Jersey, a patient must have a "bona fide relationship" (defined by the State Department of Health as a doctor/patient relationship existing for at least a year or for at least four visits)with a doctor who is already registered with the program. If a patient's current doctor is not registered in the program, the family must find a new doctor--a time-consuming issue for children who are running out of time.
Children like Sabina, who didn't have months or a year, and died while waiting for the treatment that may have helped her. On Thursday, Paula Joana joined Hardball where she explained the struggle to treat her daughter. "For pediatrics, you have to get a letter from your pediatrician, then you have to get a letter from a specialist--so we got one from her neurologist. Then we had to see a psychiatrist to make sure we weren't exploiting her and her medical marijuana."
Joana added, "I don't understand anyone who wanted to smoke pot recreationally would go through all those hurdles just to smoke pot."
Last November, a bill was put before New Jersey Gov. Chris Christie that would permit patients to receive medicinal marijuana from states with more developed medicine and less regulated programs. But Christie refused to sign it.
"See, this is what happens," Christie said at a Dec. 2, 2013 press conference where he infamously joked about "[working] the cones" on the George Washington Bridge. "Every time you sign one expansion, then the advocates will come back and ask for another one. Here's what the advocates want: They want legalization of marijuana in New Jersey. It will not happen on my watch, ever. I am done expanding the medical marijuana program under any circumstances. So we're done."
On that same day, and in the same hour Christie gave those remarks, Sabina Rose took her last breath.
READ MORE: The new faces of marijuana
"I think the medical marijuana program in New Jersey is extremely broken," Joana said. "Kids aren't getting what they need, the dispensaries are held up...there's always a problem." 
Earlier this year, Joana described her attempts to reach out to Christie--attempts that never succeeded. "He has ignored my many attempts to meet with him," Paula, who said she had liked the governor and voted for him twice before, said in an article that appeared on the Huffington Post. "Everyone [in his office] who answers my calls knows who I am, and they blow me off. My emails are not answered. He can ignore me and my husband--but we aren't going away, and he doesn't scare us like he scares everyone who works for him."
The battle to implement medicinal marijuana laws are also surfacing across states that have passed legislation on the issue. Sally Schaeffer, whose daughter Lydia had a rare genetic seizure disorder, successfully lobbied for a law in her state of Wisconsin that could help her 7-year-old. State lawmakers passed the bill to legalize marijuana oil for children in April, and Gov. Scott Walker wasted no time in signing it into law. But the Schaeffers were told Lydia would not be able to receive the treatment until the fall while the law's implementation was worked out.
"I kept thinking to myself, we've just got to buy Lydia some time, we've just got to buy her some time," Sally told the Milwaukee-Wisconsin Journal Sentinal. "And I guess we didn't buy enough."
Lydia died in her sleep on Mother's Day, less than a month after the bill was signed by Gov. Walker. In her memory, Walker renamed the law "Lydia's Law."
Meanwhile, in New Jersey, the Joana family continues to fight for their cause in memory of Sabina Rose, starting The Love Nugget Foundation in order "to advocate for common sense laws to help medical advancements as well as raise funds to assist children with various form of Epilepsy." At the end of the day, they just want to see medical marijuana available to those who need it the most.
"Chris Christie is not against medical marijuana," Joana told msnbc. "There are just so many regulations that he wants on [the law], it makes it virtually impossible."