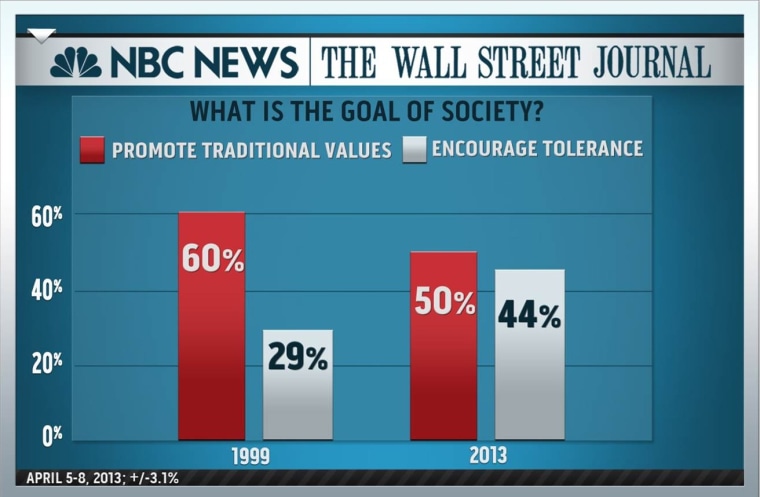 In 1999, the majority of those polled-–60%--believed the more important goal of society was to promote greater respect for traditional values, compared to just 29% who said it should be about encouraging greater tolerance. Now, 50% want to support traditional values as the more important goal for society, while 44% say society should focus on greater tolerance.
The poll found a stark political divide on the issue. Democrats and self-described independents largely drove the shift in attitudes on this question, while Republicans were largely unmoved. Among Republicans in 1999, 76% opted for traditional values and 16% for tolerance. Today, that number is nearly the same, with 77% for traditional values and 18% promoting tolerance.
In terms of traditional values and Americans' stance on gay marriage, the survey found that while support is growing for same-sex marriage overall, the Republican opposition is actually increasing. 
In terms of encouraging greater tolerance, many of those polled believe women continue to be treated unequally in the country.
Among the other findings in the NBC/WSJ poll:
76% believe women are paid less than men for the same work
65% believe women cannot "have it all" in terms of career and family without making a lot of sacrifices in both areas
And yet:
65% believe the country would be better off if more women held political office
64% believe the country would be better off if more women held senior business positions
The NBC/WSJ poll was conducted among 1,000 adults from April 5-8, and it has an overall margin of error of plus-minus 3.1 percentage points.