You know the drill at the airport these days: put your belt, shoes, laptop and any spare change in the bins before heading through security.
And although you're unlikely to forget your belt or shoes before proceeding to the gate, it's easy to leave behind a few pennies and quarters. In fact, travelers left behind more than half a million dollars in 2012 alone. That's no small change and now Congress has big plans for it.
On Tuesday the House passed the TSA Loose Change Act, which would take the forgotten money left at security checkpoints and donate it to the USO, specifically organizations providing places of rest at airports for members of the Armed Forces and their families. No House members requested that the votes be tallied, so the bill passed unanimously without an official roll call. 
According to the House Homeland Security Committee, the TSA collected more than $531,000 at airport security checkpoints in 2012. That was up by $44,000 from the change collected in 2011. The TSA was using the lost money to supplement its budget…but that won't be the case anymore.
Rep. Jeff Miller (R-Florida) of the Homeland Security Committee sponsored the bill and says he'd rather see the money go to the nation's armed forces instead of winding up lost in the pockets of the TSA.
"The TSA has been keeping the pennies, nickels, dimes, and quarters from your change purse to pay for their bloated bureaucracy," says Rep. Miller. "If TSA representatives get to play 'finders keepers' with your hard-earned cash, what's the incentive to try to get the loose change to its rightful owners?"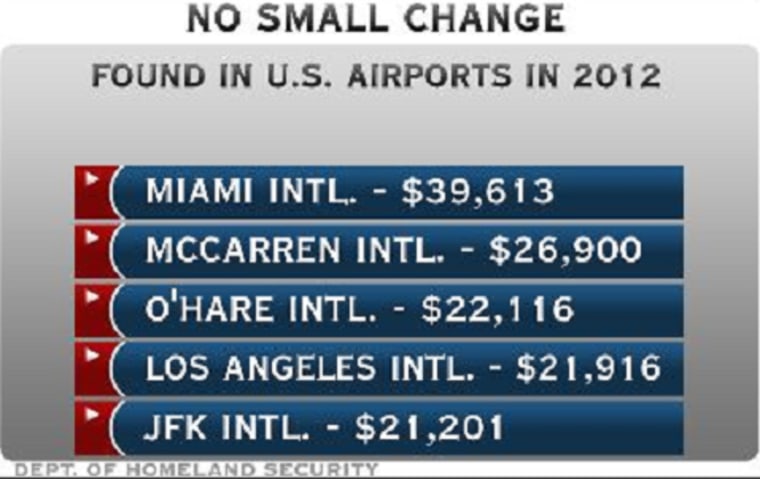 Miami International Airport reported the most recovered loose change, adding $39,613 to the TSA budget last year. On the other end of the spectrum, not many people were leaving money behind at Guam-Antonio B Won Pat Int´l Airport.
Officials there reported recovering only $1.70 in 2012.
"I would much rather see unclaimed change go to help military personnel on their way home from the battlefield," Rep. Miller says. "The lost change should be put to good use, and I know that the thousands of coins will have a positive impact on millions of our nation's warriors."
The Senate will vote on the bill when it returns from Thanksgiving break.