Candidates running to fill the open U.S. Senate seat in Iowa tussled over minimum wage, renewable fuels, healthcare, immigration and social security when they met in their first televised debate Sunday night.  
Democratic Congressman Bruce Braley and Republican State Senator Joni Ernst traded barbs in a heated one-hour back and forth. Braley, who tried to paint Ernst as an extreme Tea party and Koch brother-backed ideologue, was met with stiff resistance by his GOP opponent.
"I am a mother, I am a soldier, and I am an Independent leader," Ernst said.
"You're being funded by Tom Steyer who is a California billionaire extreme environmentalist," she told her Democratic rival. "So remember please, you're running against me, not against any of these other groups."
"I realize that, Senator Ernst," Braley responded.  "President Obama's name is not on the ballot and on Election Day I won't owe President Obama anything and you're going to owe the Koch brothers everything."
Braley linked Ernst to extreme elements of the GOP by saying she supports a "radical tea party agenda."  
"Senator Ernst would have shut down the government with Ted Cruz, called President Obama a dictator and said impeachment should be on the table," he said.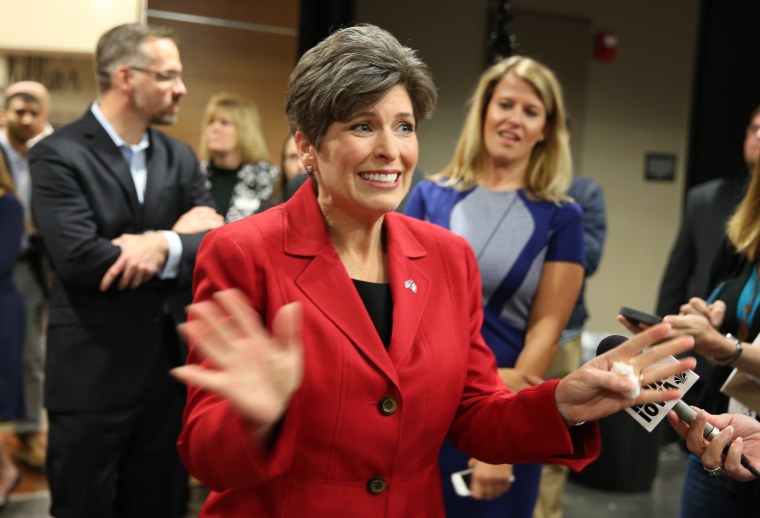 Ernst touted her experience as a member of the U.S. Army Reserves and the Iowa National Guard.  She has served in Iraq and chided Braley for his attendance record as a member of the House Veterans Affairs Committee.
"My boots have been on that ground in Iraq," she said.  "He was not present at 75% of those Congressional hearings when he could done something to help those veterans."
Braley criticized Ernst for supporting a repeal of the Affordable Care Act, supporting privatization of social security and opposing an increase to the state and federal minimum wage.  Ernst said she believes in the minimum wage but said it should be set by the states. 
"I was the morning biscuit maker at Hardees in Red Oak," she said. "So I understand…I believe in the minimum wage."  
Ernst said we need to modernize our immigration system but called the Senate's 2013 bi-partisan immigration reform bill a form of "amnesty," when pressed by Braley. 
"This is another great example of where tea party obstructionism is keeping us from getting a problem solved," Braley said.  "Will you support John McCain and Marco Rubio to call on Speaker Boehner to bring the immigration bill to the floor so we can pass it."
"I don't support Amnesty," Ernst responded.  
Ernst defended her support for a controversial "personhood" amendment, which she called a statement in support of "life".  She accused Braley of misleading women voters.
"I support life and I believe in life," she said. "I will always stand with our women on affordable access to contraception."
Ernst also refused to say she believes in climate change during a discussion on the environment and pivoted to criticizing Braley for supporting "job killing" EPA regulations.  But when pressed further by the moderator on her climate change position, Ernst sidestepped.
"I don't know the science behind climate change," she said.  "I can't say one way or another what is the direct impact, whether it's man made or not."  
Ernst has surged in a new Des Moines Register Poll out Saturday and now leads Braley by six points.