In response to the growing controversy surrounding the overturned sexual assault conviction of an Air Force lieutenant colonel, newly-confirmed Defense Secretary Chuck Hagel is ordering the Pentagon to review the powers allowing military commanders to overturn military convictions.
In 2011, Lt. Col. James Wilkerson, who was based in the Aviano Air Base in Italy, was convicted and sentenced to one year in prison (and discharged from the Air Force) for aggravated assault. But last month, Wilkerson's conviction was overturned by Lt. Gen. Craig Franklin, who even put him up for a promotion.
According to Secretary Hagel, Franklin overturned the case, citing that there wasn't enough evidence to "meet the burden of proof beyond a reasonable doubt."
Sens. Barbara Boxer, D-Calif., and Jeanne Shaheen, D-N.H., have come out swinging against the ruling.
"This is a travesty of justice. At a time when the military has unequivocally stated that there is zero tolerance for sexual assault, this is not the message it should be sending to our service men and women, and to our nation" said the senators in a joint statement earlier this month.
Sen. Claire McCaskill, D-Mo., is set to propose an amendment to the Uniform Code of Military Justice, which grants this power to commanders.
McCaskill said in a March 5 letter to Air Force Secretary Michael Donley and Gen. Mark Welsh, the Air Force chief of staff that Franklin's decision undermines the Air Force's goal to "erase a culture that has often turned a blind eye on sexual assault."
Indeed, there seems to be a worrisome pattern of sexual assault cases in the military. In 2011, there were 3,191 reports of sexual assault within the military, rising from 3,158 in 2010.
Former Defense Secretary Leon Panetta, however, has said many assaults go unreported, and the true number could be up to 19,000. In 2008 and 2009, there were 2,908 and 3,230 reports, respectively.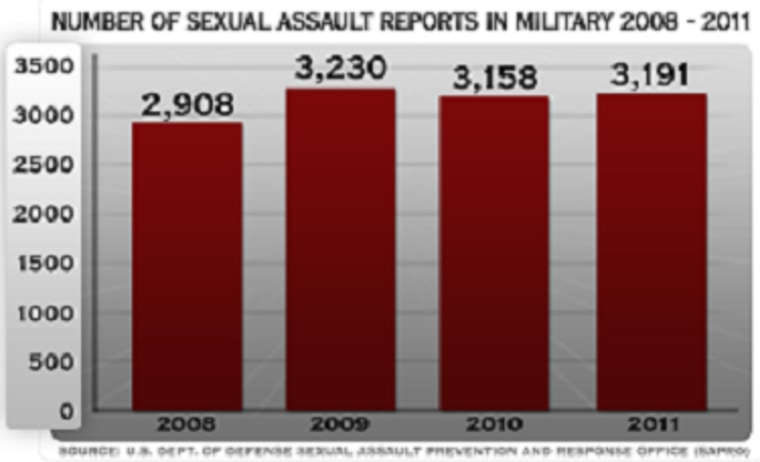 Sen. Kirsten Gillibrand (D-NY), who is overseeing a hearing on the issue, weighed in on Wednesday's Hardball, arguing justice must be served. "We have to change the dynamics. We have to change the culture [in our military]."
Anu Bhagwati, Executive Director of Service Women's Action Network (SWAN), noted victims of sexual assault in the military are  oftentims male and intimidated to speak out against  those who outrank them. "Victims feel like they're not getting their fair share of justice," she said.