Candidates for governor in Connecticut, Colorado and Texas took to the debate stage Tuesday night trading barbs and underscoring differences on a range of topics. 
In Connecticut, Democrat Governor Dannel Malloy and his Republican challenger, businessman and Ambassador Tom Foley, both opposed legalization of marijuana and pledged not to raise taxes.
But Malloy and Foley sparred over the economic direction of the state with Foley alleging that Malloy signed the largest tax increase in the history of the state.  
"I don't know why anyone would trust you now on taxes," Foley told Malloy.  "As governor I will cut taxes, get control over spending and take Connecticut in a new direction."
Malloy said he created 60,000 private-sector jobs since becoming governor but was challenged by Foley.  
"Governor Malloy says he's increased jobs in these cities but he hasn't," said Foley.  "He's been giving out candy…A train station here, a train station there.  Governor, where has all the money gone?  I'm hearing more and more Malloy Math tonight.''
Malloy has tried to paint Foley as a wealthy and out-of-touch elitist who doesn't pay income tax.
"There's something wrong in America," Malloy said of Foley.  "It doesn't make sense in the state of Connecticut."
Meanwhile, out in Colorado, Republican challenger Bob Beauprez accepted Democratic Governor John Hickenlooper's handshake halfway through their debate hosted by the Denver Post, agreeing to end negative TV commercials. 
Hickenlooper stepped away from his lectern and extended his hand to the former Congressman, who has mounted an unexpectedly stiff challenge to the incumbent governor, according to recent polling.  The unscripted  exchange caught Beauprez off guard and it remains unclear whether the agreement will result in a clean campaign from now through Election Day.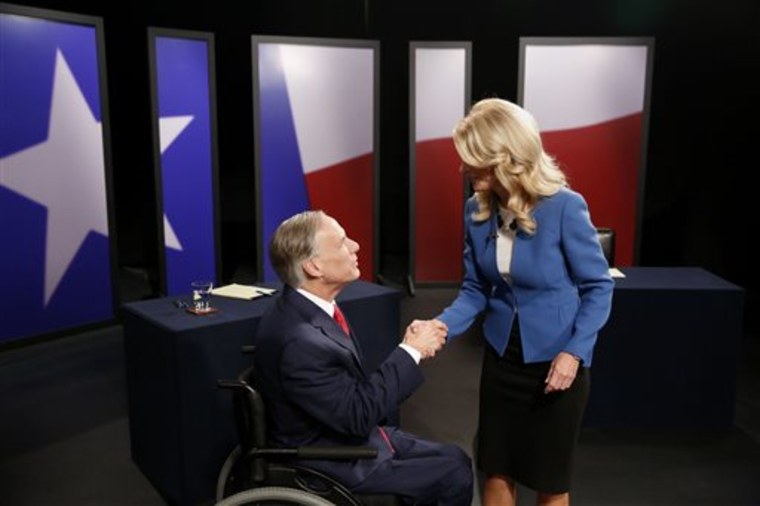 In their second and final debate, Republican Texas Attorney General Greg Abbott and Democratic State Senator Wendy Davis fielded initial questions over the news of a  confirmed case of Ebola from a patient quarantined in a Dallas area hospital.  The  candidates also wrangled over Medicaid expansion, gay marriage, abortion and education.  Davis says Abbott supports standardized testing for four year olds.  
"I don't want to see four year olds taking standardized tests any more than I want to see a cow jump over the moon," Abbott responded. 
They also traded accusations over ethical misconduct.  Davis accused Abbott of taking over a million dollars in the Texas Enterprise funds and using the power of his office to cover up the improper use of some of those funds.  Abbott said Davis voted on legislation as a state senator that personally benefited her business.  
"Mr. Abbott, you're not telling the truth and you know you're not telling the truth," Davis said. "I did not personally profit."  
The candidates for governor in Connecticut and Colorado are locked in tight races while Abbott is maintains a sizable edge over Davis in Texas.