Stu skipped work today--not to enjoy the unseasonably warm weather, but to celebrate what many New York Giants fans were calling "better than Christmas." Waves of fans decked out in blue and red flooded the streets in Lower Manhattan today for a ticker-tape parade in honor of the Super Bowl Champions. With them, they brought foam fingers, unmatched enthusiasm, and a love for the Giants and their city.
For lifetime New Yorkers like Stu (who declined to give his last name due to skipping work), parades like today's mark important milestones that should be celebrated with pride. New York City has hosted ticker-tape parades for various occasions since the late 1800s.
"This brings back memories as a youngster, and I can remember ticker-tape parades for the likes of John Glenn and for the Apollo 11 astronauts," Stu said, recalling the day in 1962 when his mother wouldn't let him skip school to cheer for John Glenn. "I'm a bit older than some of the people here today, and it's nice to know that this continues." 
---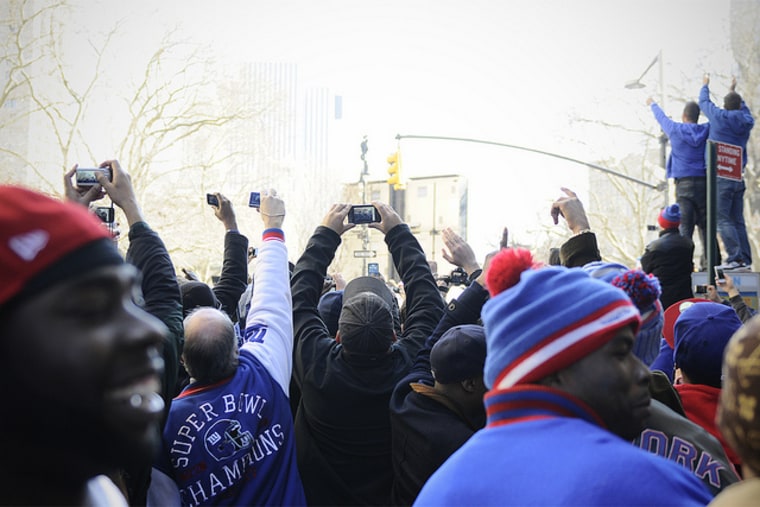 Ticker-tape parades have also been common in the past to mark the ends of military action overseas. Parades were held in New York following World War II and the Gulf War, and now there's a push by many for the city to host a parade for Iraq War vets--something that Mayor Bloomberg and other White House officials have said will not happen because there are still troops fighting in Afghanistan.
Paul Rieckhoff, Executive Director and Founder of Iraq and Afghanistan Veterans of America, spoke with Rachel Maddow on Jan. 27 about the effort to organize a parade in New York. "We know there are folks still fighting and dying in Afghanistan, but why can't we have two parades?" Rieckhoff said. "Let's have one when that's over too."
But not all veterans are on board with the idea. Former U.S. Army soldier Colby Buzzell, author of My War: Killing Time in Iraq, calls the Rieckhoff and IAVA's push for the parade embarrassing. "It's premature," he said in a phone interview with msnbc.com. "We don't know what's going to happen in Iraq and there are still troops in Afghanistan."
Buzzell isn't alone in his opinion. Genevieve Chase is also a veteran of the war and she says that "now is not a good time" for a parade. "Before we celebrate, we should wait until everyone gets home," said Chase, who is also the CEO of American Women Veterans, a Washington-based non-profit, in an interview with msnbc.com. Chase also adds that there are many Iraq War veterans who are still stationed in Afghanistan, and that it'd be disrespectful to celebrate the end of the Iraq War when servicemembers are still fighting overseas.
Both Buzzell and Chase agree that a more appropriate 'thank you' would be to put the money for a parade elsewhere, from helping veterans find jobs and continue their education to a memorial or monument in Washington to honor and thank the troops.
"We should put the money toward something enduring and lasting," Chase said.