Kansans are energized about politics this year and it was evident on Saturday at the State Fair in Hutchinson. You would have thought two rock stars were appearing in concert from the energy of the live audience who showed up to watch Governor Sam Brownback and his rival, Democrat State Rep. Paul Davis joust in their hour long debate.
Republican Gov. Brownback hammered his opponent as a liberal who supported Obamacare and continuously linked him to President Barack Obama and Nancy Pelosi, while blaming the Obama administration's policies for the state's economic and Agricultural troubles. Davis said he could understand why Brownback was so obsessed with Washington since he had 16 years of experience there.
"There's only one of us who still has an open presidential campaign account," Davis said. "While you seem so interested in who I supported in the last presidential election, the last person you supported for president (Rick Perry) is under indictment."
Davis accused Brownback of turning the state into an ideological laboratory. Brownback is in the re-election fight of his life after massive taxcuts have left a $238 billion budget shortfall, nearly bankrupting the state.
"The Governor's experiment isn't working and it's not going to work," Davis said. "It's jeopardizing our future and that's why I'm supported by over 100 current and former Republican elected officials."
Before Brownback could even respond to a question on his tax-cutting measures, onlookers shouted at him to "answer the question." Brownback insisted that Kansas is prospering economically and blamed the previous Democratic governor and President Obama for the state's budget woes.
"I don't' know where you get your math Paul, because your math is all wrong," Brownback said. "We have one of the fastest growing economies in the country."
Davis wasn't buying it and skewered Brownback for the tax-cuts and gutting education.
"Governor, you can blame everybody you want to, but the fact is that you made the largest cut to education in state history," he said. "It's interesting that he talks about math...I haven't made a billion dollar mistake."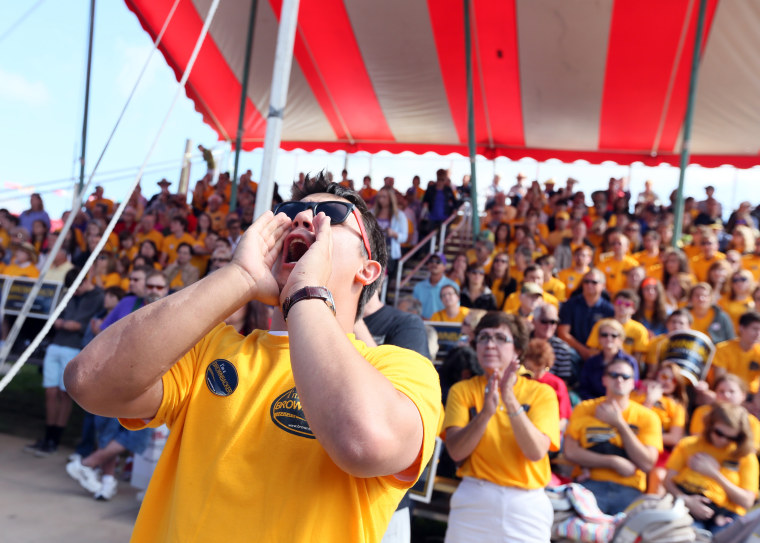 The forum was filled to maximum capacity with supporters on either side cheering or jeering the two men on stage vying to be Kansas's next governor.
"There is no seating room left in this arena," said the moderator. "I've never seen anything like it."