The issue of education has become a potent political weapon during this campaign season and that was reflected in the third week of 2014 debates. 
While Republicans are largely trying to make the midterm election a referendum on President Obama, painting their Democratic opponents as nothing more than puppets of the administration and its "failed" policies, Democrats running for governor this year are successfully navigating the waters of the "all politics is local" strategy. 
Democratic gubernatorial candidates Tom Wolf in Pennsylvania, Paul Davis in Kansas, and Wendy Davis in Texas are underscoring cuts to education in their efforts to set themselves apart from their Republican opponents. Democrat Mike Ross, in a tight race for governor of Arkansas, argues in support of Common Core national education standards and, along with Davis of Texas, is pushing for universal pre-kindergarten.  
GOP governors are facing fierce criticism for what their opponents call massive cuts to education over the last four years, and Democrats are now seizing on the opportunity to hold their rivals accountable. 
"Republican governors across the country gutted education spending and raised middle class taxes to give tax cuts to the very wealthiest, big corporations, and their special interest friends," said Danny Kanner, a spokesman for the Democratic Governors Association. 
"In 2010, they promised to be non-ideological job creators, but instead pursued a right-wing economic agenda that asks the middle class to carry a bigger share of the burden," Kanner said. "Now they're being punished for it." 
In no contest has this issue been more significant than in Pennsylvania, where Wolf has accused Governor Tom Corbett of gutting education by $1 billion over the last four years. This was the opening salvo in their first televised debate Monday night. Corbett said Wolf's assertion was a lie and pointed at former Governor Ed Rendell's administration. 
"Mr. Wolf's supporters in the public sector unions have spent millions putting out the lie that I cut education," Corbett said. "I didn't." 
"He doesn't want to talk about statistics," Corbett said of Wolf.  "But the cuts to education occurred in the administration before me." 
Wolf, who leads Corbett by double digits, has been advised by his campaign staff to avoid tripping over himself and he will be the next governor of Pennsylvania, according to a top Democrat in the state. The source said his strategy in Monday's debate was to "do no harm." Wolf avoided specifics and steered clear of Corbett's attempts to draw him into heated exchanges, even declining to rebut criticisms. Wolf relied heavily on his experience in business to drive his message, using the opportunity to remind voters why he would make a better governor. 
"Things aren't working," Wolf said.  "We can do better." 
In the second debate between candidates running for governor in Kansas, education also emerged as a focal point. Paul Davis who leads Republican Governor Sam Brownback by three points according to Real Clear Politics, accused Brownback of taking a "cheap shot" at teachers for stripping away job protections in an education funding bill.  Brownback has been under heavy assault for tax cuts that Davis refers to as an "ideological experiment" – which some have projected may result in a budget shortfall of $238 million by July 2016.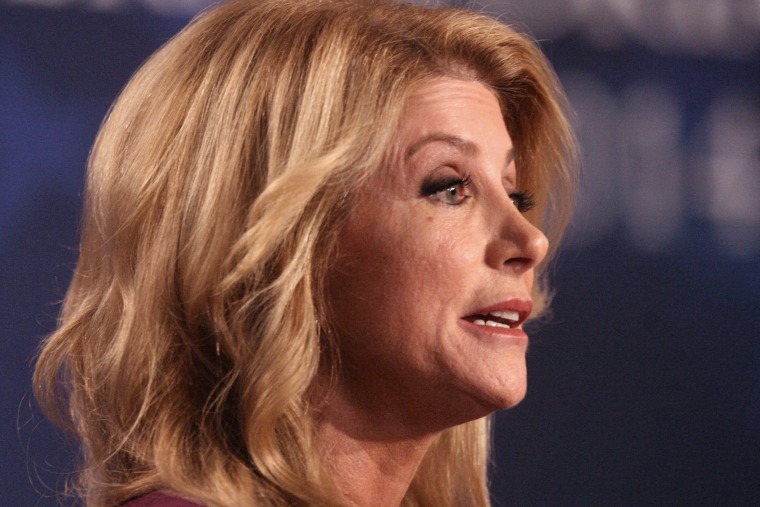 "We need to support our teachers," Davis said. "The first thing we have to do is get us on a path so that we can restore the cuts that have been made to our public schools."
Wendy Davis also pressed her Republican opponent Texas Attorney General Greg Abbott on education funding.  Davis says Abbott supports the current Republican administration's $5.4 billion cut to public schools.
"Mr. Abbott, these cuts and the cuts that you're defending that have left our classrooms overcrowded, that have left our teachers laid off, that's not liberal, that's not conservative, it's just dumb," Davis said.  "And it's shortchanging our children and selling out their future. "
Democrat Mike Ross, who trails his Republican rival Asa Hutchison by two points in a recent USA Today/Suffolk University poll, was supportive of the current Arkansas Democratic Governor's policies and is making education a hallmark of his campaign.  Ross said he wanted to be the "education governor" in their heated televised match up.  Much of the entire first half of their one-hour brawl zeroed in on education policy.
"If you want to talk about employment opportunities, you want to talk about good jobs, hunger, homelessness, poverty, crime – it really all starts with education," Ross said. 
Hutchinson said he'd like to see a "review" of the national education standards known as Common Core because Arkansas should have its own standards – not standards handed down from Washington. But Ross embraces the idea of Common Core.
"I support the concept," Ross said.
"It's not pushed down from Washington," he said disputing Hutchinson's criticisms of the program.  "It was written by people like Governor Huckabee and Governor Jeb Bush."
Ross and Wendy Davis both pushed for universal pre-kindergarten in their debates, an education policy generating a lot of support and aggressively advocated by progressive Mayor Bill DeBlasio in New York City.  
When Hutchinson said he wanted to fund universal pre-kindergarten up to two hundred percent of the poverty level, Ross accused him of flip-flopping on an issue that's resonating with voters. 
 "As a Congressman, he voted against universal pre-kindergarten programs," Ross said. "Is this the Washington Asa or the Arkansas Asa? I wish the real Asa would stand up."