With Election Day a week away, there have been some contentious debates over the past month...and if history repeats itself, some of those may prove to be game changing for candidates in close races.
Debates have been known to turn the tide in past contests.  For example, just five weeks before voters headed to the polls in the 2000 general election, legendary political journalist David Broder wrote about a "once-promising Senate challenger" in Michigan – Debbie Stabenow.  Stabenow was a top Democratic recruit that year, poised to mount a tough challenge against sitting Michigan Senator Spencer "Spence" Abraham. But, as Broder saw it, her campaign by that point had proven disappointing.
Broder wasn't wrong. 
Things were looking bad for the two-term, Lansing Congresswoman who gave up her House seat to challenge Abraham. She was being outraised, outspent and hammered on TV, where Abraham's ads targeted her position on prescription drugs – a dominant campaign issue that year.
A slew of mid-October polls turned back grim results showing Stabenow trailing by double-digits. 
"It was bad," her campaign manager Carol Butler recalled. 
Stabenow had one untapped resource left in her arsenal to turn things around: a televised debate. Butler, however, was skeptical that debating Abraham was the best strategy and others agreed. Supporters were "begging" Butler not to let the Congresswoman step onto the same stage with the incumbent.
"I'm a political operative and I tend to think they're not usually important," Butler said, recalling her early thinking about debates. 
Stabenow, to her credit, insisted on the face-off with Abraham, and Butler came around.
"It was incredibly important," Butler said of the decision to debate. "The debates were when we started to crawl our way back."
Campaigns trailing by double-digit margins less than a month before a contest are generally written off as early defeat.
That was the case for Stabenow's "once-promising" campaign. 
Heading into their Octobter 23 debate in Grand Rapids, little more than a week before the election, Abraham still led Stabenow by a hefty seven points. The late October debate, however, marked a significant turning point, lifting Stabenow's fledgling campaign out of the trenches.
"We were the challenger who now had parity with the incumbent," Butler said. "To go in and stay on equal footing was seen as a victory." 
Former U.S. Senator Robert Packwood shares Butler's view on the game changing potential debates have – especially for trailing candidates. Packwood
credits an eleventh-hour debate for changing the trajectory of his 1968 U.S. Senate race, which he said propelled him to victory. Packwood insists to this day that "the debate made the difference."
In 1968, Packwood was a virtually unknown, 35-year-old state senator mounting a gutsy challenge to a goliath in Oregon politics – Democratic Senator Wayne Morse. Morse, elected to the U.S. Senate in 1944, finally agreed to debate his tenacious challenger just ten days before the election. The event, which Morse referred to as a "confrontation," would be the first in-person meeting of the candidates.  
"He did not physically recognize me," Packwood recalls.
Throughout the debate, Morse leaned heavily on his experience and seniority in the Senate.  But Packwood undercut him, arguing that the Senator's influence had eroded, and as a result, so had Oregon's. The strategy proved effective, and is still being used by candidates today – like Kentucky Democrat Alison Lundergan Grimes, challenging the Senate's Republican Leader Mitch McConnell.
"Oregon can't afford anymore seniority," Packwood famously asserted in the debate.
"If you were watching TV that night, then you were watching the debate," Packwood recalls.  "He did so badly and everyone who saw it thought so. He didn't take the debate seriously, whereas I did."
Packwood defeated Morse by roughly 3,500 votes and remained in the Senate for the next 26 years – three years longer than Morse. Packwood served until 1995 when he resigned over allegations of sexual harassment. 
Stabenow, for her part, argued that her Republican opponent was in the pocket of special interests.
"My opponent says he's a work horse. The question is, who is he working for?" she asked.
But for Stabenow, it wasn't just what she said in the debate that changed the trajectory of her race, it was the optics as well: a sitting incumbent Senator playing defense, answering to the charges of a little-known challenger.  Stabenow's image plastered across the front pages of Michigan's largest newspapers the next morning proved to be a pivotal, equalizing moment for her campaign. It marked a significant momentum shift, shrinking the margin between her and her opponent just days before voters would head to the polls.    
On Election Day, she won by less than two percentage points, becoming the first woman to defeat a sitting U.S. Senator in a general election (Sen. Maria Cantwell of Washington would become the second a few weeks later, in her victory over Sen. Slade Gorton).  
Incumbent Senators are often reluctant to debate for fear of elevating and equalizing their opponents – as both Morse and Abraham would learn in the days following their defeats.
In 1996, Massachusetts Sen. John Kerry also leveraged the power of debate, pulling off a victory in a race that many thought was in the bag for the Republicans. 
Kerry and his amiable opponent, Massachusetts Gov. William Weld, debated seven times that cycle. In a 2004 New York Times piece, reporter Kate Zernike wrote that Kerry's participation changed the course of the election, according to his aides.  
"The contest, they argue, was decided in what John Marttila, a senior adviser, called 'man-to-man combat' – the debates that were watched by millions," Zernike reported.
The Kerry-Weld matches generated attention with their stinging one-liners and personal barbs. But they also helped to humanize Kerry, who was often viewed as aloof.
Kerry conveyed, in sentimental terms, the realities of war from his service in Vietnam. He also connected with voters on a personal level, sharing memories of the painful decision he faced to divorce his first wife – and how he struggled with how it would impact his two daughters.
Before the final debate, a Boston Globe Poll showed 38 percent of voters believing that Kerry deserved to be re-elected. Following the debate, that number surged to 51 percent.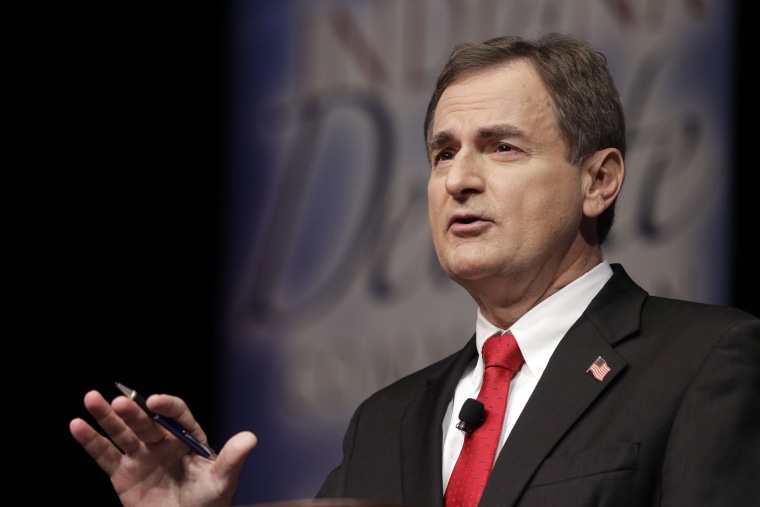 Fast forward to 2012 in Indiana, where a U.S. Senate debate took place in a deeply red state, sounding a death knell for Republican Richard Mourdock's campaign.
Following controversial comments about rape by Missouri Republican Senate candidate Todd Akin,  which sparked public outrage over what many saw as a GOP wildly out of touch on women's issues, Mourdock made a bad situation worse.  
"Even when life begins in that horrible situation of rape, that ... is something that God intended to happen," Mourdock declared, in the final debate with Democrat Joe Donnelly.   
Mourdock's positions had already begun to alienate moderate voters in Indiana, but his controversial debate remarks sealed his political fate.  At the ballot box a few days later, Hoosiers voted to turn the seat blue, creating a significant hurdle for the GOP to capture control of the Senate in 2014.
Mourdock and Donnelly were neck and neck heading into the final debate, which ultimately shifted momentum in favor of Democrats, reinforcing how pivotal and powerful a last-minute face-off can be.