According to her opponent, Kay Hagan doesn't know how to do math.  A familiar throwback to thirty years ago when Democratic Vice Presidential nominee Geraldine Ferraro didn't know the difference between Iran and Lebanon.  
For some, Wednesday night's North Carolina Senate debate between Sen. Hagan and her Republican opponent, State House Speaker Thom Tillis, felt like déjà vu.  It was 1984 all over again for the late Ferraro's daughter, Donna Zaccaro, who said Tillis' treatment of Hagan was "sadly very reminiscent of the sexist attacks used against my mother when she ran for Vice President 30 years ago." 
"Tillis would have never used the same language or bullying approach if he were running against a male candidate," Zaccaro said. 
Tillis, who referred to Hagan simply as "Kay" during the hour-long debate and came under fire by some for taking a condescending tone toward Hagan, questioned the Senator's ability to comprehend budgets, math and policy. 
"If only she would have read the budget she might understand it," scolded Tillis.  "Kay's math just doesn't add up...That's reality and that's math and that's something that Kay needs to accept." 
Tillis' assault echoed the messages of his campaign's latest television ads, released just days before the debate.
 "That's simple math," Tillis says in the ad. "But math is lost on Senator Hagan."
 Halfway through Wednesday night's debate though, Hagan had enough. 
"I'm actually insulted by his comments," she said.  "I was a Vice President of a bank.  I wrote billion dollar state budgets in North Carolina.  I understand math.  Even when I was a teenager, I worked at my dad's tire store and did layaway for people buying tires.  I understand math."
 Three decades ago, Vice President George H.W. Bush took a similar tack against Ferraro in a nationally televised 1984 vice presidential debate.
 "Let me help you with the difference, Ms. Ferraro, between the embassy in Iran and Lebanon," Bush said to Ferraro in a moment  which became famous for Ferraro's bold response.
 "Let me just say, first of all, that I almost resent, Vice President Bush, your patronizing attitude that you have to teach me about foreign policy," Ferraro responded, igniting a roar of applause and cheering.
 While the exchange between Ferraro and Bush has become an iconic moment in American politics, Zaccaro says 30 years later, male candidates haven't learned how to campaign against female rivals – remaining respectful while disagreeing.
 "Hopefully the voters won't stand for this sort of treatment of a female candidate that many of us thought the entire country had moved beyond decades ago," Zaccaro said.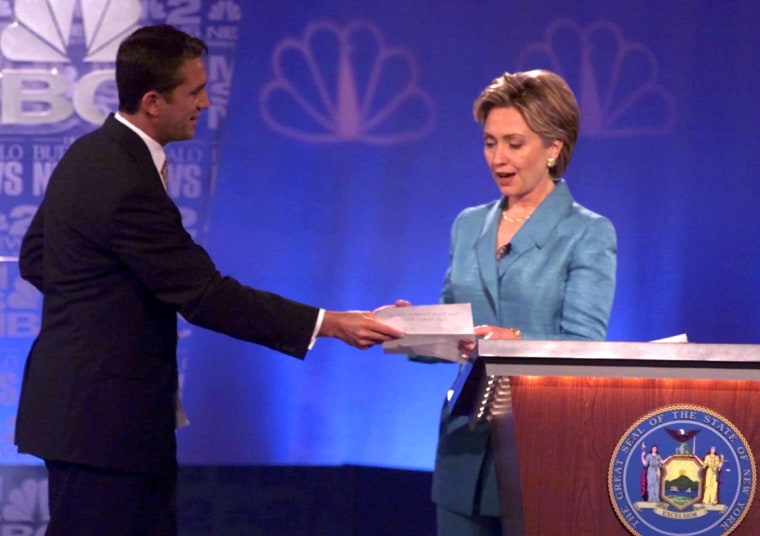 Former Republican Congressman Rick Lazio learned this the hard way during his 2000 run for the Senate against First Lady HIllary Clinton.  Lazio approached Clinton's debate space and shoved a campaign pledge in front of her.  It was perceived by many political observers as aggressive and bullying.   In a 2008 interview with Newsday, Lazio said it was mistake.  
"Even when your opponent is tough as nails and there's no way they are going to be intimidated by a challenge or a comment, the audience may not see it that way," he explained.
But this type of counteractive treatment of women is exactly what purple state Republicans are pushing back against.  Being labeled by a party which once supported anti-contraception measures and mandatory vaginal probes, candidates including Tillis and Rep. Cory Gardner (R-CO) are now endorsing over-the-counter birth control.  It's all in an effort to capture the must-win female vote and take back the Senate in the fall.