"It couldn't be better." 
That's what Aunt Eleanor would say looking out there right now. 
 "It couldn't be better" because of the life she had, the life she chose, the life she loved.
Did anyone ever seem to fit her life, belong in it, like our Aunt Eleanor?  Was anyone ever happier just to be?
Who knew every birthday, remembered everyone at Christmas and Easter and was always looking out for us?  Praying for us, backing us up, especially those who needed help?
I'm only now learning, thanks to our cousin Terie, how many roles she played in doing just that.
And could anyone have been happier to have her sister Agnes join her in the Sisters of St. Joseph, getting together with each other at each other's convents for all those decades, sharing so many happy occasions with the family together.  
I'm not up here alone.  
I'm Aunt Eleanor's nephew, Chris.  But I am up here very proudly for my four brothers and for seven cousins. 
We, all of us, the dozen of us, were Aunt Eleanor's nephews and nieces.  We "Boomers" were the first of those fortunate enough to be called her "little ones."
From the first time we had our baby eyes on her she was a Sister of St. Joseph.  To my brothers and cousins and I she was "Auntie Vincent" even if Grandmom and Grandpop called her that somewhat remote name "Eleanor." 
To us, she was "Auntie Vincent" – the one true constant of our lives. Other things would change in our lives.  Auntie Vincent was always there.
A few days before our birthdays, the card came.
You could tell it by the perfect handwriting – the Palmer Method – on the envelope.  Prayers were inside.  Spiritual bouquets – over the years by the bushel basket.  She would tell us when she was going to pray for us; and where. 
At Christmas and Easter, the cards came – for all of us, for each of us – each personal – each prayerful.  
Was she leading a happy life?  You tell me. 
"It couldn't be better" because of the life she had, the life she chose, the life she loved.'
I asked Aunt Agnes, Aunt Eleanor's younger sister, what it was like when she told her parents she was becoming a sister, she said her mother blew up. 
"Wait 'til your father hears of this!"  
Well, guess what?  Grandpop said, "Whatever makes you happy."  
He was a tough guy, but maybe, just maybe, he saw how happy his Eleanor was in the convent.  
You can bet Agnes did.  It was as if Aunt Eleanor was saying "Come on in!  The water's fine!!!"
Aunt Eleanor had gotten the head start teaching first grade and then working with young kids who were challenged at Our Lady of Confidence.  They must have noticed how patient she was, how gentle, how eager to tutor one at a time, whatever time it took. 
She was on God's time.
And she was always aware of the families and the parishes where they lived.  Parishes were her GPS.  "Oh, they live over in St. Athanatius."  I can hear her saying that.
There were three parts to every visit to Auntie Vincent.  I'm sure my brothers and cousins remember them well. 
First, sitting and talking in the community room – in the little spot along the long table that became our family area as we watched the other families visiting the other Sisters.
Second, visiting the chapel.  She was so proud of how it was decorated for Christmas.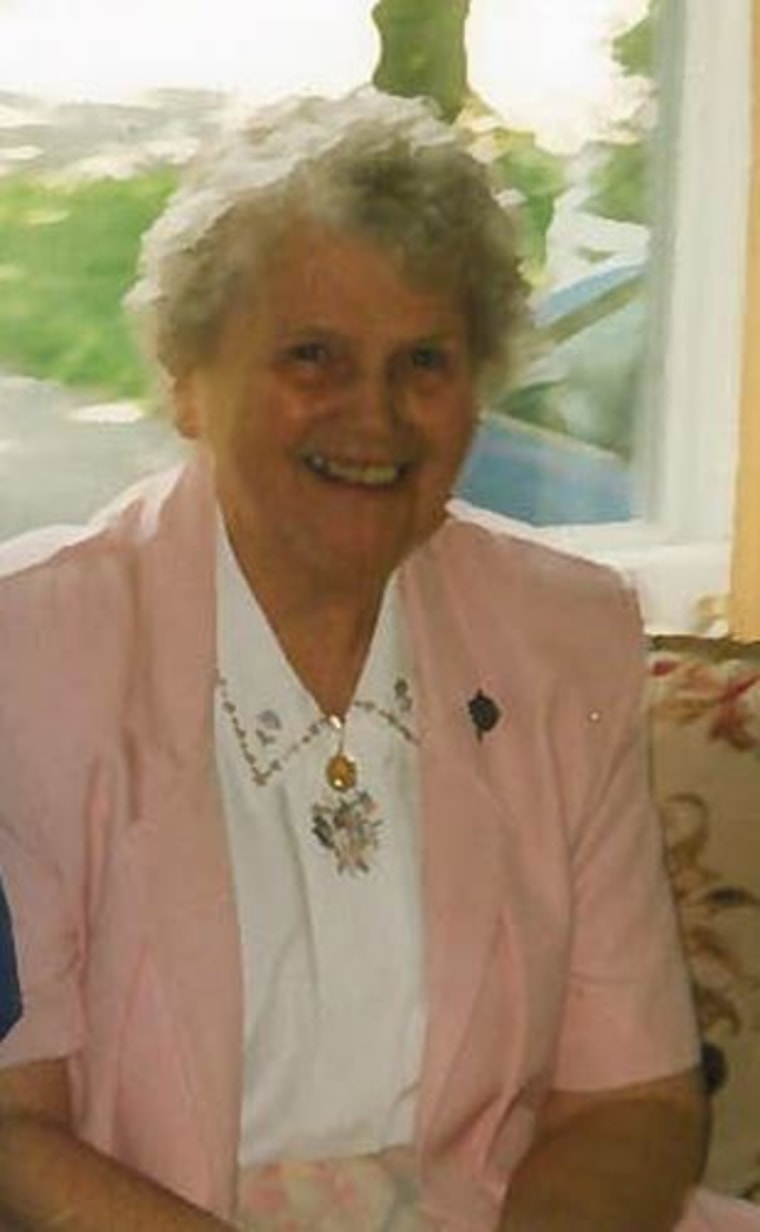 Auntie Vincent – she was still in the habit back then – would take us to the classroom where she taught what we now call "special education."  She showed us the ceramic figures her students made, religious articles of Jesus and Mary and St. Joseph.  She was proud of what those kids accomplished.  But she also smiled when she told their stories, of the fun it was being with them, the ones who could learn and those who couldn't.  She loved them all.  They, too, were her "little ones."
Did anyone enjoy being who they were more than your Sister Eleanor Shields?  Did anyone love her work and her life more?
I was thinking of a funny little ritual we had back in the 1950s.  Auntie Vincent and Auntie Agnes would come home to Grandmom and Grandpop's on 15th Street with all these gifts they'd received at Christmas.  It was perfume and scented soaps and all kinds of stuff, including those old netted Christmas stockings made in Japan.  My brothers and I were, of course, still kids and this was our last ritual of the Christmas season.
The thing is, Aunt Eleanor – we'd started by now calling her by her family name – she never changed.  The birthday cards and the prayers kept coming.  What a busy calendar she must have had to keep all this straight.  And it was always "the little ones" she focused on when she and Aunt Agnes came to visit. 
Like all families, there was this ritual that got started over the generations, which I didn't notice 'til this week. One of the brothers or cousins or older kids would pick them up for Christmas at Jim's house.   Then, after the long party, one of the youngest, someone who'd just gotten their driver's license was to take Auntie Agnes and Aunt Eleanor home.  It's a miracle they both made it as far as they did.
As I said, Aunt Eleanor was the constant.
I remember telling her I'd gotten this big job working at the White House.  She was not impressed.
"Is that a permanent job?" she asked.
I remember one time in the 1980s when she came down to Washington to lobby the Congress for social programs.  I was working for the Speaker, Tip O'Neill, back then.  His favorite aunt was a Maryknoll.  I guess that explains his "hello" to Aunt Eleanor.
"So how long you been out of the habit?"
It was like they were old pals from the neighborhood.
It all started with a family of seven living in a narrow row house a few blocks from Hunting Park and Broad Streets.
They were certainly packed in there.  Five kids, two parents, three bedrooms, one bathroom that smelled of Prince Albert pipe smoke – because it was the only room where Grandmom – who Grandpop called the "little woman" – would let the man she called "Daddy" smoke.
Who was calling the shots in that family? There were certain things Grandpop controlled.  Like the heat!  Boy, was it warm in that little row house.  Grandpop loved to go down in the basement to shovel and fill and stoke the coal furnace.  When Herb and I stayed over night when we went to La Salle down at 20th and Olney, we had to stick our arm way out the window to feel the winter weather. Anyway, there was Grandpop, the proud Charles Patrick Shields, Irish to the core and Grandmom, even more so.  Her maiden name was Conroy, her mother's Quinlan.  She looked the most like Grandmom.  Our cousin, Terry, once bestowed on me the honor of being among the Quinlans as well.
So we're going back, aren't we, as we get older. 
Aunt Eleanor said last week that she wanted to go back to "The Little Flower."
On the surface, if that's how you choose to measure things, it wasn't easy back there in the 1930s and '40s.  Grandpop was out of work through much of the Depression.  Grandmom had to be the one pinching the pennies.  Someone had to get them through.  Eleanor didn't think in those terms.  She knew early where she was headed and never looked back.  She joined the convent in the shadow of World War II, still a teenager but she knew what she wanted to do.
Has there ever been a person who so perfectly chose her life – all of it, straight through? 
I want to thank Butch, the fellow who took her three times a week for her treatments all these years.  Consider yourself for all your days a member of our family.
And the sisters who made her life wonderful – and the two angels of our family – Karen and Terie – for never letting her be alone. 
And for everyone here from her beloved Sisters and her family, which she never left, and God – for taking her so happily for both of them.