The death of a beloved lion named Cecil, at the hands of an American hunter in Zimbabwe, struck a nerve around the globe. The debate about the ethics of that hunt still provokes strong emotions.  On Wednesday, October 7th, MSNBC will focus on another side of the industry, the legal side. Blood Lions, a one hour documentary, takes viewers inside the seldom seen world of the "canned hunting" industry in South Africa.
With the help of Ian Michler, safari operator and environmental journalist and Rick Swazey, an American hunter, viewers will see inside the breeding farms where lions are bred for a variety of exploitative revenue streams. 
"Our film is an exposé," says Blood Lions director Bruce Young, "most of the lions exist in appalling conditions, exploited at every stage of their lives. Even the people in South Africa do not know that lions are being bred for the bullet – and that it is totally legal. We want to show the world what is going on, who is involved, the impact on the animals and how much money is being generated by this industry."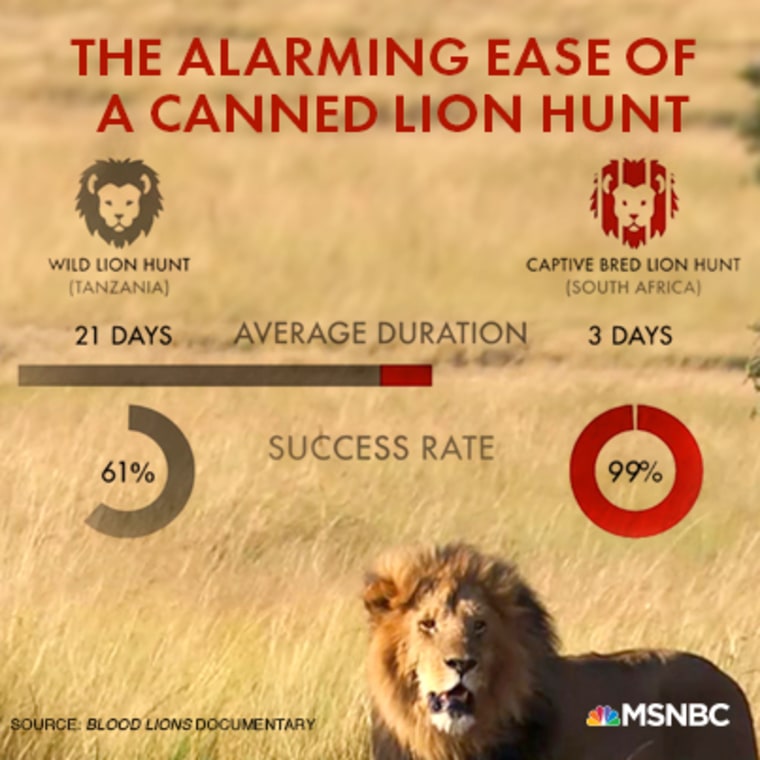 Also known as captive bred lion hunting, canned hunts allow hunters to select their lion ahead of time and complete a hunt in a matter of just three days.  Canned hunts provide a cheaper, faster, and a surefire way of hunting predatory animals, compared to wild lion hunts which may last weeks with a much lower probability of success.  Americans are largely fueling the industry, with 62% of the trophies being imported into the United States, according to Humane Society International. 
The documentary includes the perspective of both proponents of this practice who say that hunting helps preserve Africa's lion population and conservationists who are quick to dispute that claim.  
Catch the premiere of Blood Lions, Wednesday October 7th at 10pm ET on MSNBC.