Alan Dershowitz has aggressively defended First Amendment principles, arguing, for example, that Donald Trump's Jan. 6 speech was constitutionally protected. The legendary law professor has likewise challenged the search and seizure of election conspiracy theorist (and MyPillow CEO) Mike Lindell's cellphone.
So you might think that Dershowitz, who also has counseled WikiLeaks founder Julian Assange on First Amendment grounds, would register some objection to going after the journalists who broke the Dobbs leak story.
You'd be wrong.
Rather, he's effectively pushing for government action against the press. The Trump impeachment lawyer has a new opinion piece in the Wall Street Journal pointing out that the Republican-led House Judiciary Committee could find out who leaked the Supreme Court's draft ruling overturning Roe v. Wade, if the committee "is willing to play hardball with the press."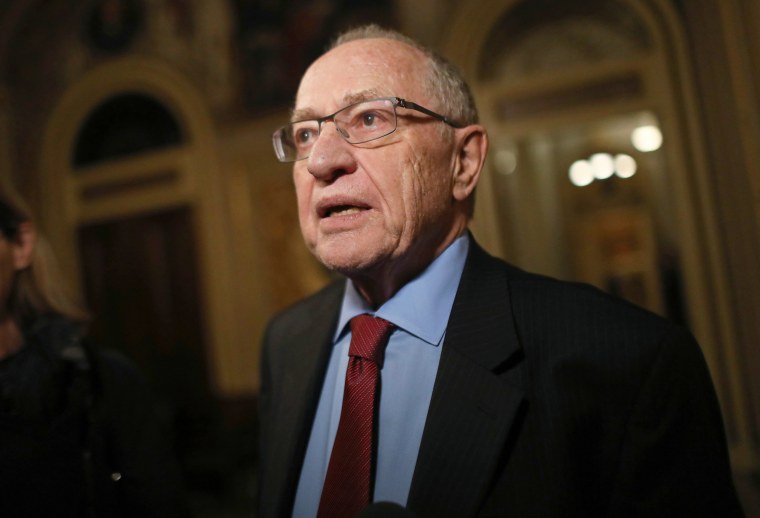 That hardball, of course, could lead to locking up journalists for doing their jobs. Yet that doesn't seem to concern Dershowitz. In fact, the words "First Amendment" are nowhere to be found in the op-ed, in which he suggests that Republicans use their subpoena power against journalists.  
It's not only a hypocritical argument but also a poorly reasoned one. For example, Dershowitz wrote that the case for forcing the reporters to reveal their source is "strong" because "the source didn't seek to expose any wrongdoing by the government, only the usual workings of the Supreme Court and a decision that would have become public within weeks."  
One problem with that statement is that it assumes, without proving, the source's motivation. That assumption is certainly at odds with the Republican-backed theory that the leaker is a liberal who presumably did seek to expose what they considered government wrongdoing. And even if that assumption about the leaker's intentions were accurate, it shows why the fervor to find the leaker is misplaced. As Dershowitz noted, the leak merely exposed "the usual workings of the Supreme Court" and a decision that was imminent.
In the end, it's a wrongheaded, hypocritical and legally dubious argument put forth by the professor, so House Republicans might actually consider it.