We're back on The Trail this Monday and looking at our newest NBC News/Marist polling from critical Senate races across the country.
There's good news for North Carolina Sen. Kay Hagan, D-N.C., who has a 4 point lead over her Republican challenger Tom Tillis heading into this last month of campaigning. But in Iowa, it's a different story for the Democrats: Rep. Bruce Braley is currently trailing Republican challenger Joni Ernst in the race to replace retiring Sen. Tom Harkin. 
The biggest shocker--and our focus today--is Kansas, where incumbent Sen. Pat Roberts is down double-digits to businessman Greg Orman.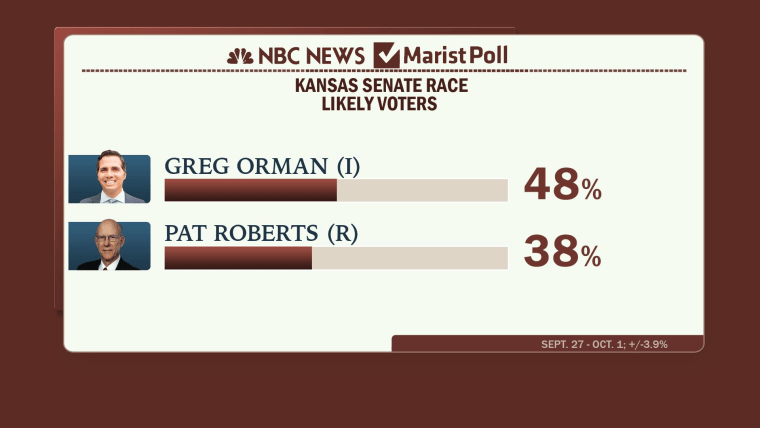 'HE'S IN A GREAT DEAL OF TROUBLE OUT THERE': Incumbent Sen. Pat Roberts, R-Kan., has fallen behind Independent challenger Greg Orman, leaving the door open for Democrats to win the seat if Orman decides to caucus with the party. "[Pat Roberts is] in a great deal of trouble out there," Marist pollster Lee Miringoff told NBC News. "He's got high negatives, his intensity of support is low, he's losing independents by more than two to one. His to-do list is rather large in the remaining time before Election Day." According to the polling, 44% of Kansas voters consider themselves independents. (More: NBC News)
ON THE CAMPAIGN TRAIL: Roberts will welcome Sen. Ted Cruz this week to try and close the gap between him and Orman as Election Day nears. Cruz isn't the first Republican all-star to hit the campaign trail for Roberts: former vice presidential candidate Sarah Palin, Sen. John McCain, and former Senate majority leader Bob Dole have all stumped for Roberts recently. (More: Washington Post)
OUT-OF-TOUCH WITH VOTERS?: Is Roberts out-of-touch with Kansas voters? A recent USA TODAY/Suffolk poll suggests that may be the case: while many voters recognize his name, 47% see him unfavorably. (More: Politico)