Ben Affleck's "Argo" took the top honors at Sunday night's Academy Awards, along with kudos from the nation's newly-minted top diplomat, John Kerry, who personally tweeted his support for the film about a daring CIA operation to rescue six Americans during the 1979 Iran hostage crisis.
"Good luck Ben Affleck and Argo at the Oscars. Nice seeing State Department and our foreign service on the big screen" Kerry tweeted from the State Department account on Saturday. The initials "-JK" denote a tweet from the Secretary himself.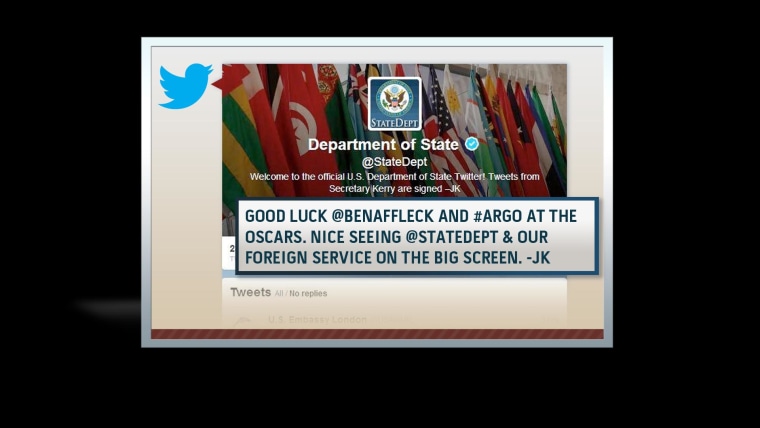 Once a dark horse candidate for "Best Picture," Argo swept up a number of prizes during awards season, culminating in the Oscars' biggest prize along with the award for Film Editing and Adapted Screenplay.
Affleck in turn gave props to the foreign service.  Backstage after the big win, he said: "I think we gained further appreciation for that as we shot the movie, visited the State Department. I know Secretary Clinton a little bit and Secretary Kerry a little bit better and so... I've picked up an appreciation for what the State Department does, what our Foreign Service does, what they sacrifice."
First Lady Michelle Obama presented the award for Best Picture in a surprise appearance via video feed Sunday night.
"The fact it was the First Lady was an enormous honor and the fact that she surrounded herself by service men and women was special and I thought appropriate. Anyway, it was very cool," Affleck said backstage.
The American Foreign Service Association responded in a statement Monday, calling the U.S. hostage crisis in Iran "an unforgettable part of Foreign Service and U.S. diplomatic history, both professionally and personally."
"AFSA is pleased that 'Argo' highlights both the historical event as well as the Foreign Service community that represents the United States around the world," the organization said in a statement.
RELATED: Watch Andrea Mitchell's interview with Ben Affleck on the making of 'Argo.'