As NBC's Chief Foreign Affairs Correspondent Andrea Mitchell marks her 35th anniversary with NBC News, we're taking a trip down memory lane to her early years in the Washington, D.C. bureau. In this excerpt from Mitchell's memoir Talking Back... to Presidents, Dictators, and Assorted Scoundrels, she recalls a trip to San Antonio with First Lady Rosalynn Carter over Labor Day weekend 1978, while President Carter worked on brokering a Mideast peace deal at Camp David. 
Barely two months after becoming president, Carter launched negotiations to get Israel to trade land for peace. The outline of the basic deal hasn't changed in the decades since: Israel would withdraw from territory it occupied in 1967 in exchange for open borders and Arab recognition. It took more than a year of persuasion, but in September of 1978, Carter brought Israel's prime minister Menachem Begin and Egypt's Anwar Sadat together for their historic summit at Camp David.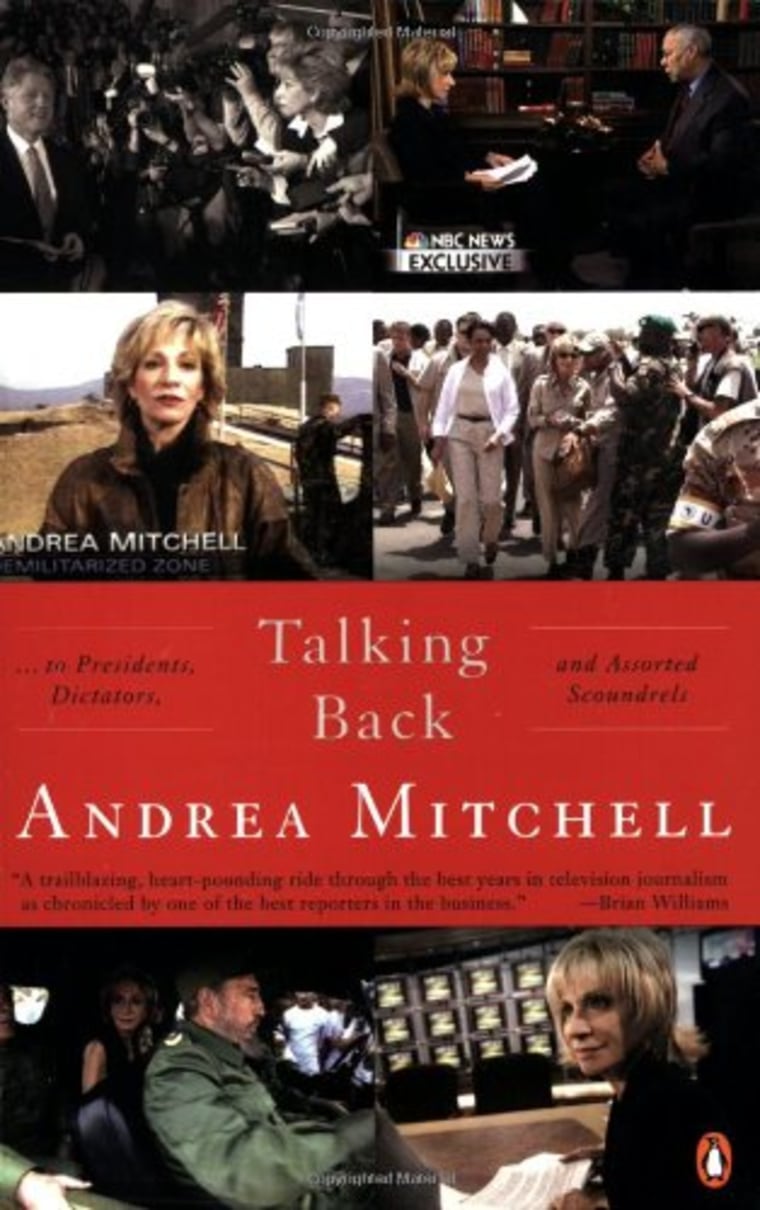 When the summit began just after Labor Day in 1978, I had been at NBC for barely a month. Carter cleared his schedule, canceling a political trip to San Antonio, so that he could try to broker peace between Begin and Sadat. Rosalynn Carter was sent to Texas in his place, and I was assigned to accompany her on Air Force Two. While the senior correspondents were dealing with issues of world peace, I would be covering the first lady. It was hardly a plum assignment, but it would be the first of countless trips I would take over the succeeding years on one of the iconic blue-and-white aircraft in the presidential fleet stationed at Andrews Air Force Base in the Maryland suburbs. I was thrilled.
Instead of covering high-power summitry, I went shopping for what I imagined were the appropriate clothes to cover a first lady: a long-sleeved silk shirtwaist and high heels. Perhaps it was suitable for church, but it was hardly the right garb for riding on a flatbed truck in a Labor Day parade in Garland, Texas, on an afternoon when the temperature reached ninety-eight degrees.
The trip didn't start well, either. I was to interview the first lady when we arrived in Texas Sunday night and put together a story for Monday morning's Today show. With delicate negotiations about to get underway at Camp David, the first lady was understandably silent on the only subject everyone cared about, Middle East Peace.
And, at the last minute, Mrs. Carter's staff decided that the color of the sofa in the interview room at our hotel clashed with what she was wearing. It was either get her to change clothes, or find a new couch. We changed the couch. That delayed the interview so long, we had to race to the Alamo shortly before midnight to shoot my on-camera stand-up in front of the only recognizable building that would be well-lit against the night sky. Just as I was getting ready, the lights at the Alamo were shut off for the night, leaving me standing in front of a black hole.
The next day, drenched from the stifling humidity and almost suffocating in my silk dress, I gamely tried to keep my balance, teetering in high heels on the flatbed truck that followed Mrs. Carter in the parade. Our first-generation videotape recorder broke down in the high humidity, but it hardly mattered. Clearly, there was no news in this spousal campaign appearance, especially in contrast with the Middle East negotiations the president was organizing.
But at the end of the parade, NBC's Texas bureau chief Art Lord suddenly appeared to whisk me onto a helicopter to get to our Dallas affiliate. Nightly News wanted a report on Labor Day events around the country. Art had made his reputation during the Vietnam War as our Saigon bureau chief, and he still wore the khaki jacket of a war correspondent. How could I tell him about my fear of helicopters? Making it worse, Art put me in the copilot's seat so that I could have an even better view through the 360-degree Plexiglas bubble. I was terrified, afraid to admit it, and had to write a script in less than a half hour. Fortunately, considering the state of the long-sleeved silk dress, there was no need to go on camera. Nonetheless, I had completed my first White House trip, survived, and somehow gotten on the Nightly News.
This text first appeared in Andrea Mitchell's memoir Talking Back... to Presidents, Dictators, and Assorted Scoundrels, first published in 2005 by Viking Penguin.
For more great moments, check out Mitchell's discussion with msnbc's Rachel Maddow about reporting on the Three Mile Island nuclear disaster as an energy correspondent in 1979, and being told she couldn't cover the story because she was a woman: 
And who could forget this epic moment? Click to relive the famed balloon drop on the convention floor in 2008: