"State of the Union" began trending on Twitter and Facebook even before President Obama's speech started on Tuesday evening.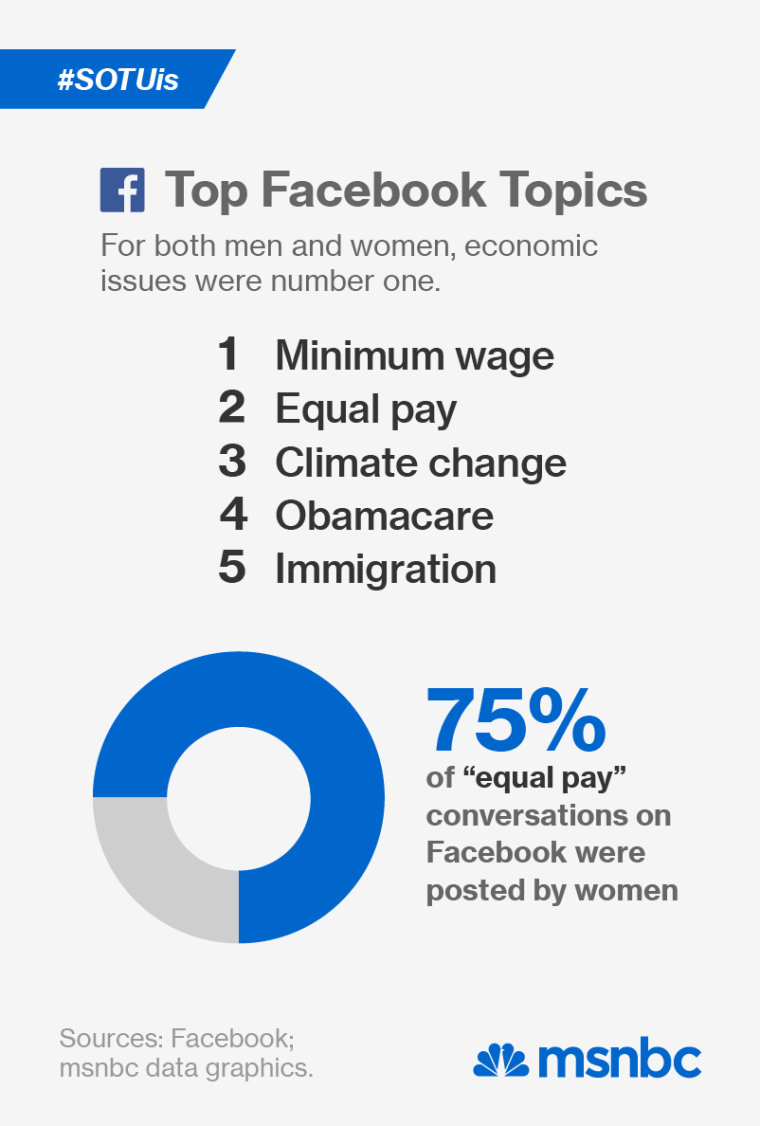 One of Obama's early applause lines--about the humble upbringing of House Speaker John Boehner--prompted the hashtags #sonofabarkeep and #barkeep. Also trending early: #madmen, a reference to the AMC period drama. "It's time to do away with workplace policies that belong in a 'Mad Men' episode," the president delcared in a push for equal pay, saying the 77 cents a woman earns on average for every dollar a similarly-qualified man earns is "wrong" and "an embarrassment."
Three-quarters of the conversation on Facebook surrounding the president's comments on equal pay came from women, Facebook reported. 
The president's call to "give America a raise" –the crux of his argument to increase the minimum wage--caught fire on social media, as the phrase "Give America" became a nation-wide trending topic. Democratic members also tweeted with the hashtag #RenewUI, a nod to legislation that would renew unemployment insurance, which has languished in Congress.
The line "America does not stand still, and neither will I" brought major applause on the House floor and a flurry of retweets on Twitter.
Republicans started expressing their disdain early. Texas Republican Rep. Randy Weber tweeted his disdain for the president while the guests were arriving in the chamber. 
Apparently Weber's early arrival afforded him some time to craft a few acronyms.
Other Republicans also protested.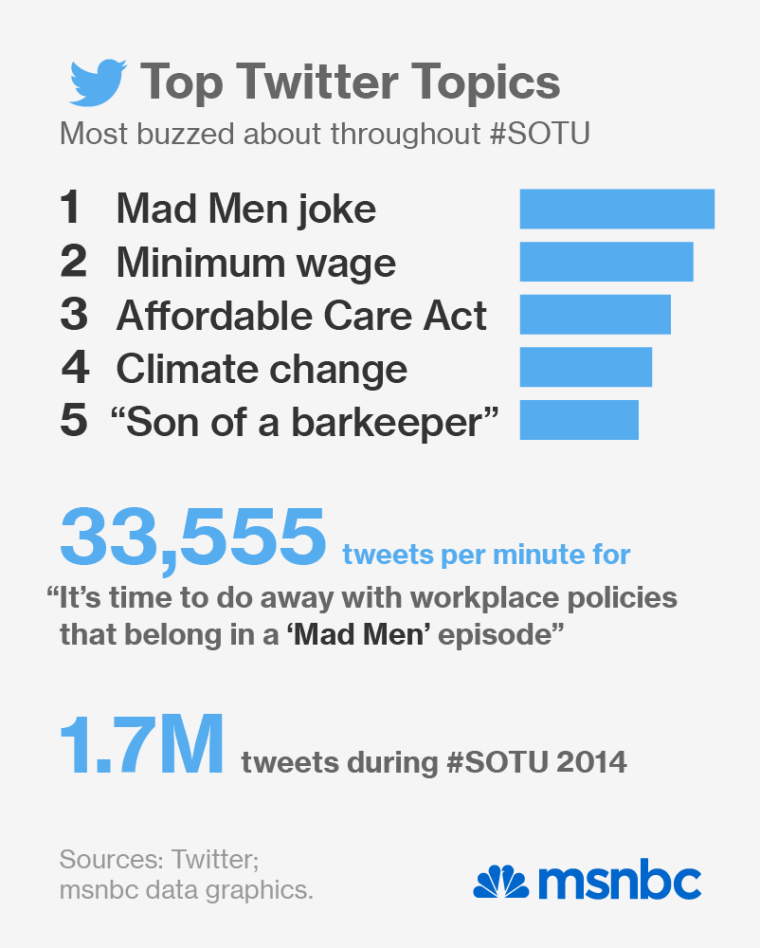 During the 9:15-10:15 pm Eastern hour, the State of the Union address triggered more than 773,000 mentions of the #SOTU on Twitter, according to Topsy data. The biggest peak in Facebook posts occurred around the theme of minimum wage, followed by equal pay, climate change, Obamacare, and lastly immigration.
Army Ranger Sgt. 1st Class Cory Remsburg, a veteran wounded in Afghanistan whose heroic story drew a lengthy standing ovation, sparked more than 25,000 mentions on twitter, according to Topsy. His name was trending worldwide during the hour after the speech. 
Vice President Biden may have achieved the "most meme-able moment" of the evening with a mega-watt grin that immediately went viral.    
Some members of Congress got their tweets pumping before the president addressed the nation.
Senate Minority Leader Nancy Pelosi, a longtime champion of equal pay and workplace policies that benefit women and mothers tweeted "couldn't agree with the President more! Proud to hear him reaffirm what we know best: When #womensucceed, America succeeds!" 
Congresswoman Debbie Wasserman Schultz, the chair of the Democratic party and a close friend of former Arizona Congresswoman Gabrielle Giffords, called for a focus on gun control policies – a topic that dominated the State of the Union Address in 2013, just two months after the horrific shooting at Sandy Hook Elementary School. 
The NRA charged the White House with "holding mental health reform hostage to gun control" and said, "Leadership means stopping tragedies before they happen." 
Guests snapped pictures with other members and celebrity guests while waiting for Obama to enter the chamber. Two cast members of the smash A&E reality show "Duck Dynasty," Willie Robertson and his wife Korie Robertson (invited by Republicans Rep. Vance McAllister of Louisiana and South Carolina's Sen. Lindsey Graham) posed with lawmakers before the speech. The hyper-popular show came under fire in recent weeks after a cast member was suspended for his comments on race and homosexuality. 
The White House spent days leading up to Tuesday's address ramping up enthusiasm with a couple of behind-the-scenes looks at speech prep and messages from the first family on Vine and Instagram.
The White House posted a video on Vine Monday of President Obama hinting at a focus on equal opportunity and stoking speculation that he'd speak about raising the minimum wage, job creation and education. "Tomorrow night, it's time to restore opportunity for all," the president says straight to camera. The White House touted it as a "special message about his 5th State of the Union."
<iframe class="vine-embed" src="https://vine.co/v/MuvOjuUqXgi/embed/simple" width="600" height="600" frameborder="0"></iframe><script async src="//platform.vine.co/static/scripts/embed.js" charset="utf-8"></script>'
A video featuring interviews with the president's speechwriters and POTUS's own off-the-cuff comments praising the "tone" and "framework" of the draft was posted to the White House website. Near the end, Obama heckles lead speechwriter Cody Keenan on his newly-grown beard: an accessory Keenan started growing in November and vowed not to shave until after the speech.  
The White House Instagram account enjoyed a round-robin among senior staff as Press Secretary Jay Carney, Senior Advisor Valerie Jarrett, and Keenan took turns behind the lens.
<iframe src="//instagram.com/p/jr0hgZQir8/embed/" width="612" height="710" frameborder="0" scrolling="no" allowtransparency="true"></iframe>'
Michelle Obama took to comparatively old-fashioned email to tell supporters Tuesday that the basis of the speech "come[s] from come from those quiet moments late at night, when Barack is at his desk reading your letters." Many of the people whose life story a president uses  to illustrate a point or advance a policy are traditionally invited to attend the State of the Union and sit in the First Lady's VIP box above the floor of the House of Representatives. 
"These letters turn into real action," Michelle Obama wrote. "I've seen it happen: He'll write in the margins 'This is who we're fighting for,' and then he'll pass them on to his senior staff." 
Just hours before the speech, the first lady posted a video on Instagram urging people to tune into her husband's speech to hear the "amazing stories" of her guests. 
<iframe src="//instagram.com/p/jurkSZPZOi/embed/" width="612" height="710" frameborder="0" scrolling="no" allowtransparency="true"></iframe>'