More than ten days after ground control lost contact with Malaysia Airlines Flight 370, investigators are casting renewed suspicion on the two men who were flying the plane: Captain Zaharie Ahmad Shah and co-pilot Fariq Abdul Hamid.
Despite the co-pilot's last words from the cockpit, "All right, good night," he made no mention to ground control that 12 minutes earlier, one of the plane's onboard communication systems had already been shut down. Two minutes later, another communication system was switched off – suggesting that the plane was purposefully diverted.
The search for the missing jetliner has evolved into the longest in modern aviation history, with 25 countries canvassing a search area almost as wide as the continental United States, yet investigators still have little evidence explaining what happened to the Boeing 777. Focus now turns to Zaharie and Fariq – two highly-qualified Malaysian pilots and likely the only onboard with the technical expertise to shut down the communications apparatus and steer the plane off-course – in an investigation that is bringing heightened attention to the embattled political system of the nation both men call home. 
Although Malaysian authorities have not discussed a political motive for the plane's disappearance, Zaharie's background in particular is raising questions as to the possibility of foul play. 
Zaharie, a 53-year-old father of three with one grandchild, is reportedly a member of the People's Justice Party, the primary opposition to the ruling United Malays National Organization. In a picture circulating widely on the Internet, ostensibly taken at a 50,000-person rally last year where protesters contested election results, shows the Flight 370 captain wearing a t-shirt proclaiming "democracy is dead."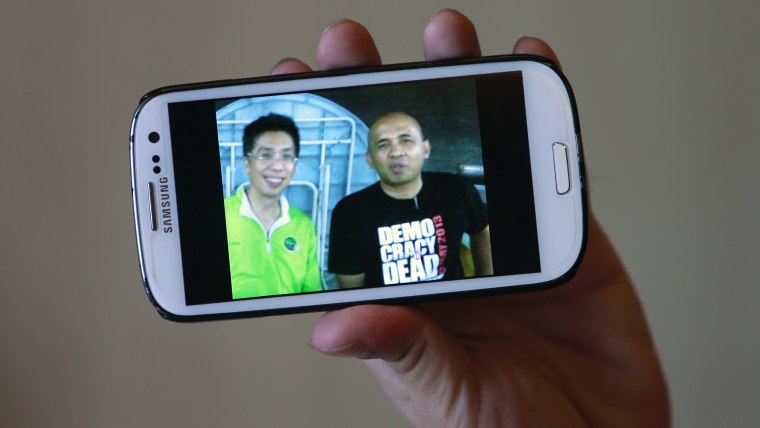 While Malaysia is formally considered a democratic nation, power has been concentrated in the hands of a few. The ruling coalition held onto power in the most recent election, but lost the popular vote, sparking rumors of fraud. Stoking that claim was opposition leader Anwar Ibrahim, a former finance minister and deputy prime minister who clashed with the ruling party and charged the government with cronyism.
Peter Chong, a friend of Flight 370 pilot Zaharie and a member of the opposition party himself, has said that Zaharie was a supporter of Anwar's, and the pilot's digital footprint revealed that he watched a lot of videos about the opposition leader.
One day before Flight 370 disappeared, Anwar was sentenced to five years in jail on sodomy charges, overturning a 2012 acquittal. Anwar again protested the charges as trumped-up and politically motivated. In another move the opposition party called discriminatory, legal counsel Karpal Singh was fined on Wednesday for violating a colonial-era sedition law. 
The Daily Mail reported that Zaharie "is thought to have attended" Anwar's court sentencing in Ptrajaya and quoted Anwar as saying, "I am not denying that he [Zaharie] is related to one of my in-laws and that I have met him on several occasions." 
Investigators pulled a three-monitor, homemade flight simulator out of Zaharie's suburban Kuala Lampur home on Saturday, which they were careful to note did not in itself cause suspicion. Zaharie is an experienced pilot with more than three decades and 18,000 hours of flying experience under his belt, authorities relayed early in the investigation. 
With the extra layer of scrutiny into Zaharie's background adding to the unanswered questions surrounding Flight 370, Brookings senior fellow Jonathan Pollack cautioned against jumping to conclusions that Shah was culpable for the missing jetliner.
"Even if he was very disaffected from the policies of the ruling authorities, who would believe that he was prepared to bring down a commercial aircraft with certainly many foreigners?" Pollack said of the flight's captain.
Malaysian authorities are newcomers to crisis management, Pollack added, and have struggled to offer much clarity to an international community that is desperate for answers. "This is a government that is really under enormous stress right now." 
Malaysia is leading a search into what is by far the largest international incident to befall the prosperous Southeast Asian nation of 30 million. Officials have been criticized for the slow drip of information in recent days, starting with the handful of hours that passed before authorities reported the plane missing. Decades in power, an acquiescent press and a paternalistic code of conduct have left officials seemingly baffled and uncoordinated in response to relentless questioning from the international community.
One question hounding the country's military is how the Air Force could fail to spot a rogue plane in its airspace. Investigators waited hours before declaring the plane missing, then revised its time of disappearance. Officials issued and then retracted a report that five passengers checked in but did not board the plane, and that their baggage was removed. A lead about two Iranian men traveling on stolen passports came up empty. Officials sat on evidence that military radar had picked up a signal indicating the jet flew on toward the Indian Ocean. And while the country's police chief said investigators "didn't see the necessity" in visiting the pilot and co-pilot's homes before Saturday, March 15, the defense minister said authorities visited their homes much sooner.
"Malaysia has not suffered many disasters, it's geographically shielded from tsunami and earthquake and drought and famine," said Ernest Bower of the Center for Strategic and International Studies. "It doesn't have a lot of experience handling disasters like this."