A top House Democrat has a plan for getting unemployment benefits extended, despite Republican opposition: Hold the Farm Bill hostage.
"Under no circumstances should we support the farm bill unless Republicans agree to use the savings from it to extend unemployment insurance," Rep. Chris Van Hollen told the Washington Post's Greg Sargent last Friday. Members of the House and Senate are currently negotiating a final version of the Farm Bill in conference committee.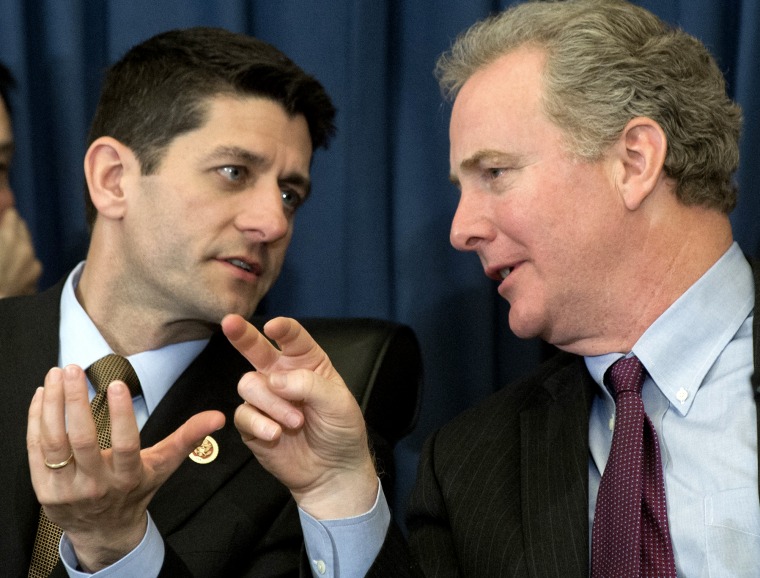 The House has already missed the deadline for avoiding a lapse in unemployment benefits, which will expire on Dec. 28. Senate Majority Leader Harry Reid, D-Nev., has indicated that reinstating the lifeline for jobless Americans will be at the top of the agenda when the Senate reconvenes next year. House Republicans won't extend the safety net program without a price, however. On Wednesday, Speaker John Boehner, R-Ohio, made clear he would only bring an extension to the floor "as long as long as it's paid for and as long as there are other efforts that will help get our economy moving once again."
That's where Van Hollen's plan comes in. He would insist that unemployment insurance be "paid for" with the cuts already baked into the 2013 Farm Bill, a sweeping piece of omnibus legislation which covers farm subsidies, food stamps, and a host of other crucial nutrition and agricultural programs. The Senate Farm Bill would save an estimated $24 billion over the next decade, whereas extending emergency unemployment insurance for another year would cost $25 billion.
Nonetheless, Van Hollen believes holding up the Farm Bill provides the Democrats with "a potential pressure point," because the law subsidizes dairy production, keeping milk prices far lower than they otherwise would be. The House passed a temporary Farm Bill extension on Wednesday to prevent dairy prices from skyrocketing, but Reid has said there will be no stopgap measures coming out of the Senate.
If Congress did fund balancing an unemployment insurance extension with cuts out of the 2013 Farm Bill, that could mean that aid for the jobless came at the expense of billions in cuts for food stamp recipients. One of the hot points of contention in the Farm Bill conference committee has been over the size of potential cuts to the food stamp program: Whereas the Senate version of the bill cuts $4.1 billion over the next decade, House Republicans want to slice as much as much as $39 billion.
A spokesperson for Van Hollen said the representative would not support a Farm Bill which includes unacceptably high food stamp cuts, even if the money from those cuts went to fund unemployment insurance. In recent weeks, more and more Democrats have expressed a willingness to kill the Farm Bill outright in order to prevent further cuts to food stamps.
"Congressman Van Hollen believes the cuts to the food stamp program proposed by House Republicans are far too damaging, and will oppose the final farm bill package if those cuts are too deep," a spokesperson for Van Hollen told msnbc via email. "But if the Farm Bill is acceptable on its own merits, he believes the savings from cuts to agricultural subsidies and other parts of the bill should go to extend unemployment compensation. Why wouldn't we reinvest all of those savings to help families trying to make ends meet?"
The Farm Bill conference committee has not yet released a final version of the bill, but the latest reports say the law will likely include about $8 billion in cuts targeted at the intersection between food stamps and LIHEAP, a subsidiary program which provides energy assistance to low-income families. Those cuts may prove unacceptably high to some Democrats. In June, some House Republicans voted against a version of the bill that would have cut $20.5 billion out of food stamps, because those cuts were not large enough.