Despite a historic housing bust, the Great Recession, and a sluggish recovery, homelessness in the U.S. has dropped for the fourth straight year, falling 4% between 2012 and 2013. 
There are now about 610,000 homeless people in the country, according to a new report from the Department of Housing and Urban Development. Since 2007, homelessness has fallen 9% nationally. The drop is even steeper among the homeless people who live in the streets, other public spaces, and their cars: the unsheltered population dropped 12% over the past year and 23% since 2007.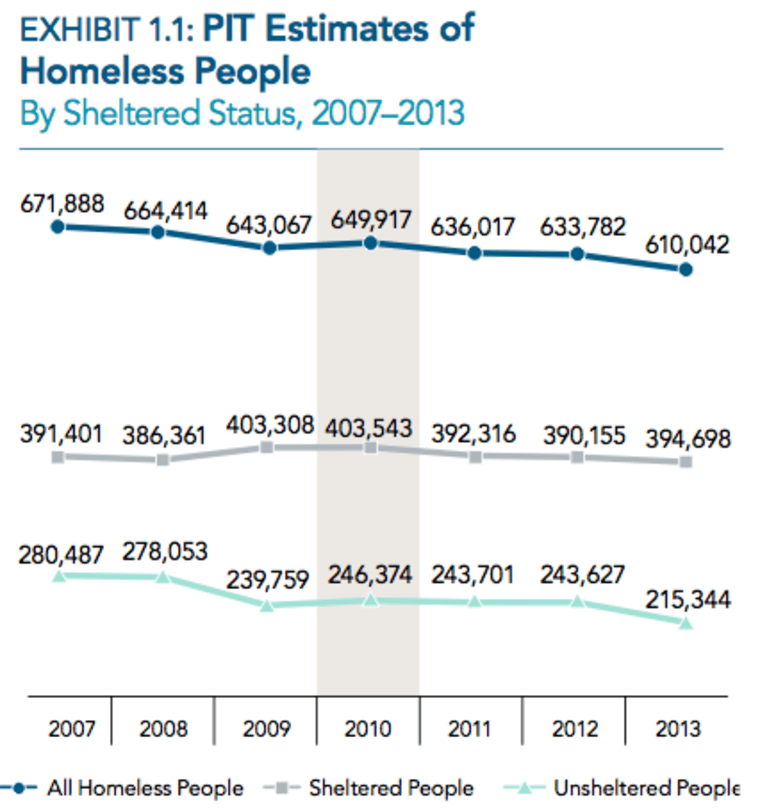 How has homelessness gone down at a time when ordinary Americans have been so financially distressed, losing jobs and homes to foreclosure? Experts credit both the Bush and Obama adminstrations for working to help the homeless transition more quickly to permanent housing—a major shift in federal housing policy.
"They've been focused a lot more getting people off the street and into housing, targeting the resources a lot better. I think that's paying off," says Nan Roman, executive director of the National Alliance to End Homelessness. "In the past, people who were homeless living on the street were the last people to get help."
Over the last 10 years, the federal government has funded more than 100,000 housing placements for chronically homeless Americans under an initiative called "Housing First" that President Bush began early in his presidency and that President Obama continued, according to Dennis Culhane, a social policy professor at the University of Pennsylvania. State and local officials across the country have now embraced such strategies.
During the financial crisis, Obama redoubled efforts to combat homelessness, putting $1.5 billion in the stimulus for programs like "rapid re-housing," which moves people out of shelters and into permanent housing as soon as possible. With bipartisan support from Congress, Obama has vastly expanded housing vouchers for homeless veterans, whose numbers have dropped 24% since January 2010. 
"It's clear the program is working," says Culhane. Housing First has consistently shown a 85% retention rate, with few becoming homeless again even two or three years out, says Culhane. "People reduce their use of hospitals and jails significantly, and for some populations, those reductions fully offset the costs of the supported housing."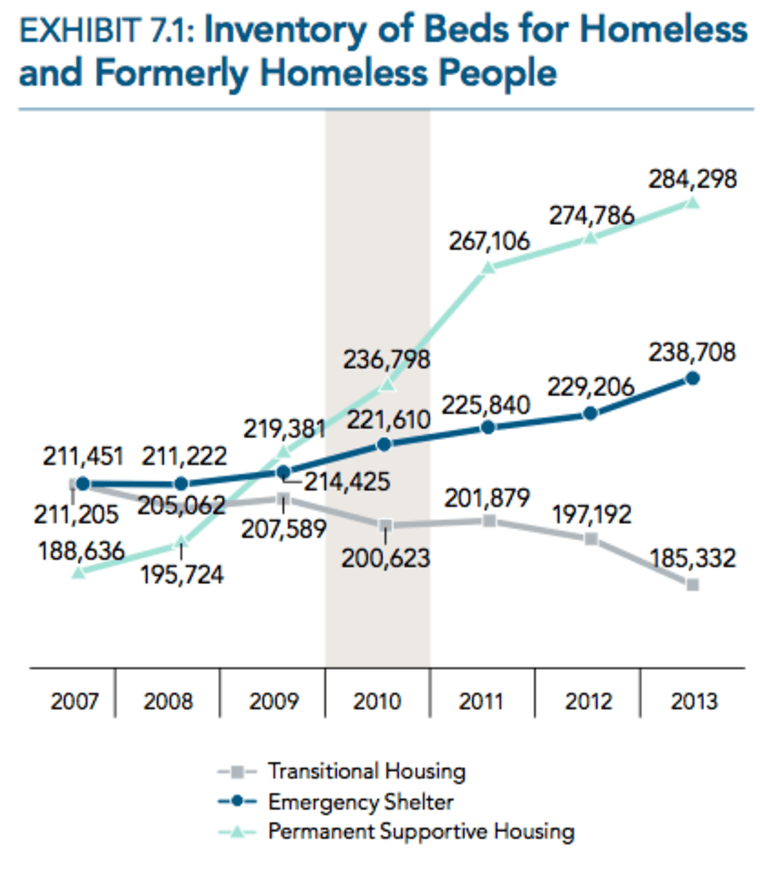 But "it's been a split story," says Roman: while the national numbers have gone down, homelessness has continued to rise in certain parts of the country, often driven by sky-high rents and a lack of affordable housing. In New York state, the homeless population has spiked 24% over the past six years, mostly driven by increases in New York City. Massachusetts, Missouri, and the District of Columbia also had double-digit increases since 2007.
Federal budget cuts could also undermine the progress that's been made to date, advocates say. That stimulus money has now expired. Sequestration has already cut the number of Section 8 vouchers for affordable housing nationwide, and the cuts in the coming year will get worse unless Congress reverses them. While programs for veterans have been exempted from sequestration, the dollars for other homeless populations will also be stretched thinner as stopgap measures expire and rents continue to rise.
"We're making real and significant progress to reduce homelessness in this country and now is not the time to retreat from doing what we know works," HUD Secretary Shaun Donovan said in a statement, arguing against future austerity measures.
Other factors could fuel homelessness in the near future, Culhane warns. "We have returning soldiers from Iraq, more than 500,000 coming out of prison every year, and young people unable to get into the labor market," he says. "All these things threaten our progress."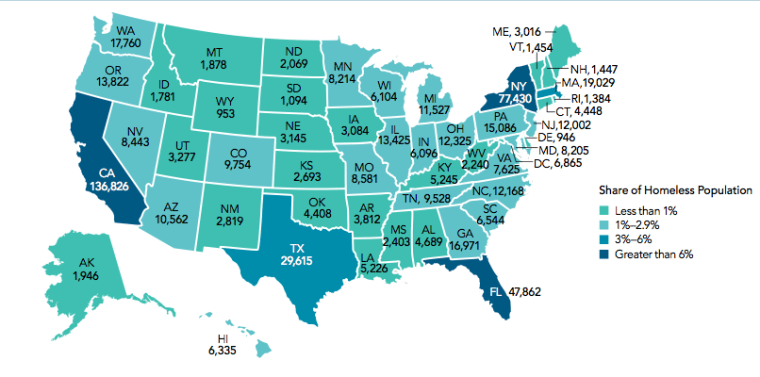 Graphs courtesy the Dept. of Housing and Urban Development.